Michael Murphy retained as Ireland International Rules captain
Last updated on .From the section Gaelic Games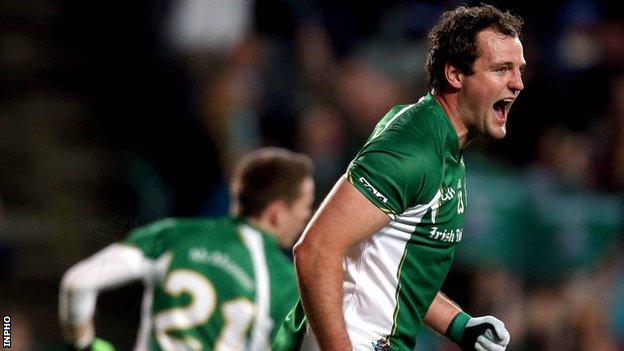 Donegal's Michael Murphy has retained his position as Ireland International Rules captain for the one-off Test with Australia in Perth on 22 November.
Paul Earley's 25-man squad has eight other players from Ulster counties including Tyrone trio Niall Morgan, Sean Cavanagh and Mattie Donnelly.
Donegal's Neil McGee is also picked as are Monaghan duo Darren Hughes and Conor McManus.
Derry's Chrissy McKaigue and Down's Kevin McKernan are also included.
Ireland won last year's two Tests convincingly against a weakened Aussie team which only included indigenous players but the host have named one of their strongest line-ups for many years for next month's one-off game.
A 40-man extended Irish squad has been working together for the last number of weeks, but the reduced group of 25 was unveiled by Earley on Tuesday morning.
Ireland have won the last two series, played on successive weekends, by comfortable margins and the organisers have stated a desire to make the contests more competitive.
International Rules
• The first series, involving three matches, took place in Ireland in 1984
• Ireland have won 20 of the matches and Australia 16
• The series was scrapped in 1990 after poor attendances in Australia but resumed eight years later
• The trophy is named in honour of Irish player Cormac McAnallen who died suddenly in March 2004
In total 15 counties are represented across the Ireland panel although All-Ireland champions Kerry [David Moran] and Dublin [James McCarthy] both only have one representative in the squad.
Mayo lead the way with four home-based players included, as well as Brisbane Lions' Pearse Hanley, the only AFL-based player included in the visitors' panel.
The team management has also confirmed that Cork's Aidan Walsh will fill the role of vice-captain.
Ireland depart for Australia on 12 November, with their itinerary including a warm-up game in Melbourne against a VFL selection on Sunday, 16 November.
"We travel to Australia anticipating a very strong challenge from the hosts," said Earley.
"The players who we have chosen have worked hard in recent weeks and and have shown many of the attributes that we hope will allow us to build on some of the promising aspects of last year's series performances."
International Rules is played under regulations which are a mixture of Gaelic games and Australian Rules guidelines.
Irish and Australian officials said they were considering changing some rules to encourage more AFL players to get involved.
The need for a more competitive fixture was underlined by Ireland's 101-point aggregate success in October 2013.
The Irish won the first meeting in Cavan 57-35 and the second in Dublin 116-37 to easily retain the Cormac McAnallen Trophy.
In the history of the sport, Ireland have nine series wins, with Australia one behind, and looking to level the record books in 2014.
Ireland panel: Colm Begley (Laois), Colm Boyle (Mayo), Seán Cavanagh (Tyrone), Cathal Cregg (Roscommon), Mattie Donnelly (Tyrone), Finian Hanley (Galway), Pearse Hanley (Brisbane Lions), Darren Hughes (Monaghan), Lee Keegan (Mayo), James McCarthy (Dublin), Ciaran McDonald (Tipperary), Neil McGee (Donegal), Chrissy McKaigue (Derry), Kevin McKernan (Down), Kevin McLoughlin (Mayo), Conor McManus (Monaghan), David Moran (Kerry), Niall Morgan (Tyrone), Ross Munnelly (Laois), Michael Murphy (Donegal, captain), Colm O'Neill (Cork), Pádraig O'Neill (Kildare), Paddy O'Rourke (Meath), Aidan O'Shea (Mayo), Aidan Walsh (Cork, vice-captain).