St Mary's may opt out of McKenna Cup, says manager Paddy Tally
Last updated on .From the section Gaelic Games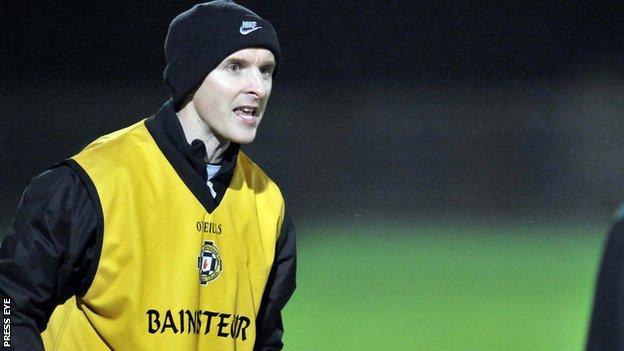 St Mary's manager Paddy Tally has threatened to withdraw his side from the Dr McKenna Cup if county managers lay claim to his players.
The Ulster Council ruled that colleges should have first call on players, but a number of counties have flouted the regulations in recent seasons.
Tally says participation will be pointless if his squad is stripped of its best players.
"If our players are being pulled, we'll not play in it. We'll make a decision."
"It would be a waste of time. We don't have that many players to start off with, and if we're losing players to the counties, it makes no sense," he said.
"If you're going to bring the colleges in, let them have their players, and enjoy it, play it and develop their teams for the Sigerson Cup.
"But if it goes to that stage, it really would be a waste of time for us."
Former Tyrone and Down trainer Tally added that he has had positive soundings from some counties, but fears a 'domino' effect if others decide to call up university players.
"We have had reassurance from a few counties that they're not going to pull their players, but they have also said that they will only do that if other counties do the same.
"But if one county starts it, you'll see the domino effect, that's the way it has been this last few years, which is very disappointing."
Dr McKenna Cup draw
Section A:UUJ, Down, Cavan, Monaghan
Section B:QUB, Fermanagh, Donegal, Derry
Section C:St Mary's College, Armagh, Antrim, Tyrone
The county versus college controversy has been ongoing in recent seasons, with both Queen's University and University of Ulster Jordanstown also expressing frustration over the issue.
Queen's pulled out of the entire 2013 competition in protest at several of their players being required to represent their counties.
The Ulster Council appointed former Armagh manager Joe Kernan to mediate in the issue last year but UUJ still opted to forfeit their final round robin game against Cavan because of the unavailability of players.
Exams, injuries and students representing their counties were the reasons given by Jordanstown for pulling out of the Breffni Park match.
The competition will get underway on Sunday 4 January, with further group games scheduled for 11 and 14 January.
Holders Tyrone were drawn with Armagh, Antrim and St Mary's for their round robin section games.
Last year's beaten finalists Cavan have been grouped with Down, Monaghan and UUJ in Section A.
Section B will see this year's beaten All-Ireland finalists Donegal taking on QUB, Fermanagh and Derry.
Tyrone defeated Cavan 1-15 to 0-11 in this year's final.
After the section games, the semi-finals are scheduled for 18 January with the final taking place six days later.