Hurling Review Committee proposed yellow card change
Last updated on .From the section Gaelic Games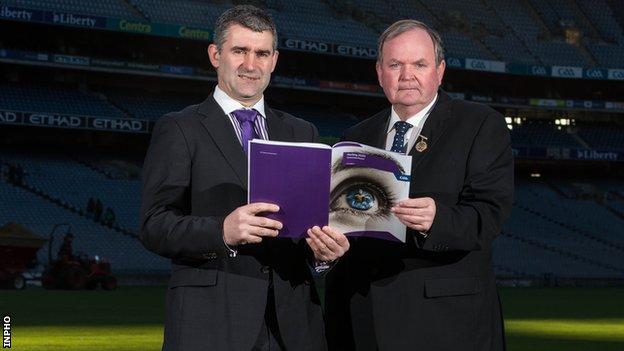 The Hurling Review Committee headed by former Tipperary manager Liam Sheedy has recommended that players who are handed two yellow cards should be substituted rather than being sent off.
The yellow-card proposal appears to be the main talking point from the committee's 15 recommendations.
The committee comes out against the notion of following football by adopting black cards for cynical fouls.
But it proposes is the introduction of squad numbers for the entire season.
This is aimed at avoiding the practice of naming starting teams in advance of the game and then making wholesale changes to the line-ups before the throw-in.
The committee's recommendations could be in place for the start of this year's Championship although this is by no means certain.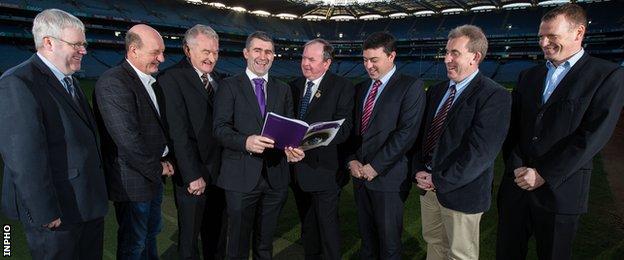 The 11-person committee, which included former Antrim great Terence McNaughton, had already proposed that only one other player should be able to join the goalkeeper on the goal-line when penalties are being taken.
Further to this, the committee has also recommended that only three players should be allowed on the goal-line for frees outside the large parallelogram.
Other proposals include the abolition of the relegation-promotion play-off between the Christy Ring Cup winners and the losers of the Leinster round-robin series.
This would allow the Christy Ring Cup winners to automatically promoted to the Liam McCarthy Cup.
The committee also recommends that the Christy Ring Cup final should be played over seven as opposed to five weekends and the final of hurling's second-tier inter-county competition should act as a curtain-raiser to a high-profile All-Ireland qualifier.
If the committee has its way, a new full-time national director of hurling position will be created by Croke Park.
The committee was tasked with drafting the proposals for a number of reasons which included at the deterioration in standards in a number of previously successful counties.
The GAA's congress on 27-28 January will deliberate on a number of the proposals while other will be decided upon by the sport's Central Council.