Peter McGrath says Fermanagh can make impact in 2015
Last updated on .From the section Gaelic Games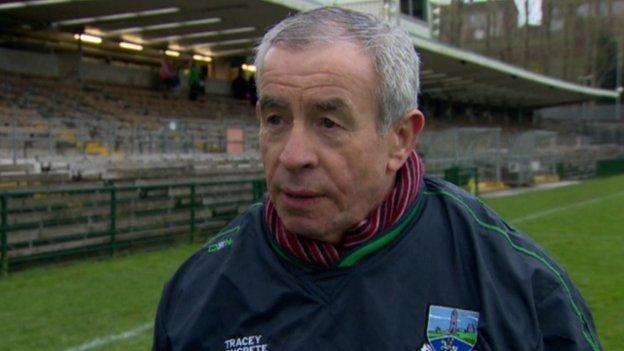 Fermanagh football boss Peter McGrath believes his players are capable of "making a serious impact" in all their competitions in 2015.
The Ernemen have made an encouraging start to the New Year as the opening McKenna Cup win over Queen's was followed a surprise success over Derry.
McGrath says the win over Derry was the product of a "lot of work".
"Last year, we didn't get the work done because of my late appointment," said the Fermanagh boss.
"I've got a much better handle on the players now. I know their mindsets. I've come to know them individually and I know what makes them tick.
"They know what makes me tick as well and we are working very cohesively towards making a serious impact in whatever competitions we play in this year, whether it's the McKenna Cup, the National League or the Championship."
After making an encouraging start to last year's League, Fermanagh's Spring was then overshadowed by the decision of the Quigley brothers, Seamus, Sean and Conor to pull out of the squad in March following a dispute.
Fermanagh went on to retain their Division 3 status and Sean Quigley returned to the squad in May prior to the start of the championship.
The Ernemen suffered a disappointing home defeat by Antrim in their Ulster Championship opener before going down to an unlucky one-point reverse against Laois in the opening round of the All-Ireland Qualifiers a month later.
McGrath said the Portlaoise performance was a much more accurate barometer of their true ability and had the potential to give his team renewed belief ahead of 2015.
And while it may be early days, McGrath says his team's early-season displays are backing up his assertion.
"The players have got the talent and the resilience," adds McGrath about a squad which now also includes Conor Quigley in addition to Sean.
"They have got the determination and the appetite for hard work and I'm looking forward to that coming to fruition over the coming months.
"Nothing beats winning for a county that hasn't had a great deal of success.
"Every win is important and an incremental step in building confidence and that bit of self-belief."
McGrath's league target last season was for his team to hold on to their Division 3 status but the Down man is making little secret that his players should be targeting promotion a year on.