Women's Gaelic Players Association officially launched
Last updated on .From the section Gaelic Games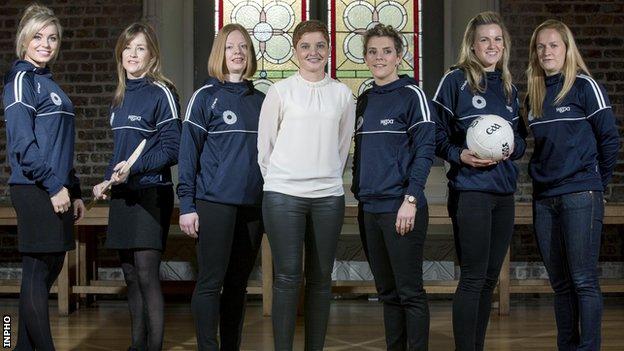 New ground has been made in Gaelic Games with the unveiling of the Women's Gaelic Players Association.
The organisation will support Ladies Football and Camogie players who represent their counties.
Those who attended Tuesday's launch in Dublin included top Ulster footballers Gemma Begley and Caroline O'Hanlon
Camogie players Jane Adams, Fionnuala Carr and Grainne McGoldrick were also present as Women's GPA chairperson Aoife Lane addressed those present.
"It's been fantastic and kind of overwhelming really to see such support here today," said inaugural chairperson Lane.
"You could see that there was a bit of energy on social media yesterday but it has really manifested itself in the actual attendance today."
In 2015, the WGPA will provide a 24-hour Support Line, while they will also work in tandem with the well-established men's GPA on the Jim Madden Leadership Programme.
"It's a dual focus really. You have on the field and off the field issues. Little things like not having hot showers and meals after training, and not having a physio on hand," added Lane.
"Then the off-field stuff - that players have a balanced lifestyle; that they pursue their education, their career and their families and friendships."
Unlike their male counterparts the Association is not an official one according to Lane, the new body will enjoy a "healthy relationship" with the Ladies Gaelic Football Association (LGFA) and Camogie Association.
Representatives of both Associations, including outgoing LGFA President Pat Quill and Camogie Association Director General Joan O'Flynn were present at the announcement.
The WGPA will have access to some of the support services provided by the GPA.
GPA Chief Executive Dessie Farrell was also present at the event.