Football League Division Four: Antrim 1-12 0-15 Carlow
Last updated on .From the section Gaelic Games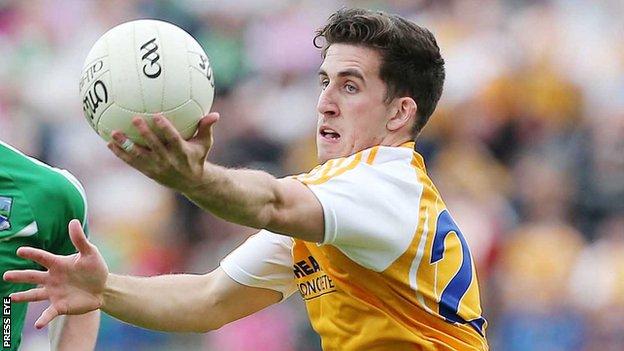 Antrim drew with Carlow 1-12 to 0-15 in their Division Four game at St Paul's.
Ryan Murray scored the first point of the game, with Michael Pollock adding four points and Owen Gallagher one as Antrim trailed 0-7 to 0-6 at half-time.
Paul Broderick contributed five of Carlow's first half points and added another three early in the second.
Gallagher scored the only goal two minutes into the second half and Antrim managed a draw despite having Niall McKeever sent off 10 minutes from time.
McKeever saw red for receiving two yellow cards.
Carlow had a goal disallowed for a square ball but took a slender lead into the break after Murray and McKeever missed chances to put the Saffrons ahead late in the half.
Good work by Tony Scullion set up Gallagher, who finished off a sweeping move to give Frank Fitzsimons's side an early boost after the interval.
Ryan Murray received a black card and his brother Conor later joined him on the line for another black card offence.
McKeever's dismissal left Antrim up against it but Gallagher pointed to put them ahead, before Darragh O'Brien grabbed the point which ultimately levelled the match.
TEAMS
Antrim: C Kerr; J Laverty, C Burke, T Scullion; D Lynch, J Crozier, J Carron; S McVeigh, N McKeever; C Murray, O Gallagher, T McCann; R Murray, CJ McGourty, M Pollock. Subs: G Walls, M Kane, B Hasson, M Sweeney, E McNeill, R Wilson, N O'Neill, E Killough, P McBride, C Johnston, P McAleer.
Carlow: C Kearney; D Kelly, S Redmond, K Nolan; D Hayden, D St Ledger, B Kavanagh; S Gannon, D Foley; E Finnegan, C Moran, D Bambrick; P Broderick, B Murphy, H Gahan. Subs: A O'Brien, BJ Molloy, D Moran, D Kinsella, M Fitzgerald, E Ruth, A Kelly, C Mullins, D O'Brien, J Murphy, M Meaney.
ALLIANZ FOOTBALL LEAGUE RESULTS
SATURDAY - 19:00 GMT
Division 1
Tyrone 0-09 1-13 Monaghan
Donegal 1-15 0-12 Derry
Division 3
Fermanagh 0-16 0-07 Louth
Division 4
Waterford 0-14 0-10 Wicklow
SUNDAY - 14:00
Division 1
Cork 1-15 0-16 Dublin
Kerry 0-10 2-11 Mayo
Division 2
Galway 2-13 1-12 Meath
Roscommon 1-11 0-14 Cavan
Westmeath 1-12 0-10 Laois
Kildare 1-15 3-13 Down
Division 3
Clare 1-16 0-05 Wexford
Limerick 0-14 1-09 Sligo
Armagh 2-8 0-13 Tipperary
Division 4
London 1-02 0-09 Offaly
Leitrim 0-15 1-12 Longford
Antrim 1-12 0-15 Carlow