Shinty: Newtonmore strong favourites, says Ronald Ross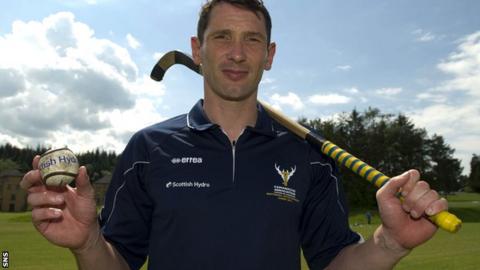 The new shinty season gets underway on Saturday and 12-time Camanachd Cup winner Ronald Ross believes Newtonmore are strong favourites to record a sixth consecutive Premiership title.
Ross feels the current champions will prove too strong once again but believes cup competition may be more evenly contested.
"I can't see anybody challenging this year in the league," Ross told BBC Scotland.
"When it comes to the cup competitions, as we saw last year, the trophies were shared around.
"Lovat retained the MacTavish Cup, Newtonmore got the bogey off their back by winning the MacAulay Cup and, surprisingly, Kingussie won the Camanachd Cup."
However, Ross thinks Newtonmore will be stronger this season.
"Last year, Lovat pushed them close," he said. "Newtonmore were kind of decimated by injuries, but they've got everybody back fully fit.
"I'd expect Newtonmore to run away with it, with Lovat and Kyles challenging for second place."
Newtonmore manager Paul John MacKintosh knows expectation is high for his team to deliver.
"We have to be at the latter stages of all these trophies," he said. "Anything less than a couple of senior trophies would be a failure."
As the new season dawns, Camanachd Association chief executive Torquil Macleod is as excited about matters off the pitch as on it.
"I'm hopeful this is going to be a very positive year for shinty," said MacLeod. "We've just announced our biggest-ever sponsorship.
"I would like to see us all really making some ground in terms of growth of the sport.
"One of the opportunities for us is down in the central belt.
"We're looking to appoint, for the first time, a development officer based down there. There's huge growth potential.
"There is an enthusiasm. There's been real growth in Glasgow just over the last few years.
"Kids love having a go with the stick and the ball. It's just about getting the structure in place."
Ross has a role in that as shinty's national development officer and believes progress is being made.
"Last year, we saw an increase in youth participation numbers," he said. "We see Glasgow and Edinburgh as huge growth areas.
"That person [a centrally based development officer] will be tasked with increasing participation numbers in the central belt and hopefully creating another club down there."
The build-up to the start of the season has not been as smooth as some may have foreseen, with the second-tier National Division losing Glenorchy, who withdrew their participation late on.
"That's the only negative going into the start of the season," Ross explained. "Obviously, with Glenorchy pulling out at the last minute, there's not a lot we could do about that."
The division will now go ahead with only seven teams.
MacLeod admits it was "disappointing" but could understand the predicament some clubs face.
"You've got to be sympathetic to the fact that these are small, fragile communities and the loss of a small number of key players can have a big impact on a team," he explained.
"We met with the clubs and they agreed that they would just carry on with the 12 league fixtures and various cup competitions.
"We aim to get it back up to an eight-team league for next season.
"That issue was isolated to the National Division. For everyone else, they've got what they asked for, which is more league matches.
"I'm looking forward to getting started."