Football League: Cavan 0-14 2-13 Kildare
Last updated on .From the section Gaelic Games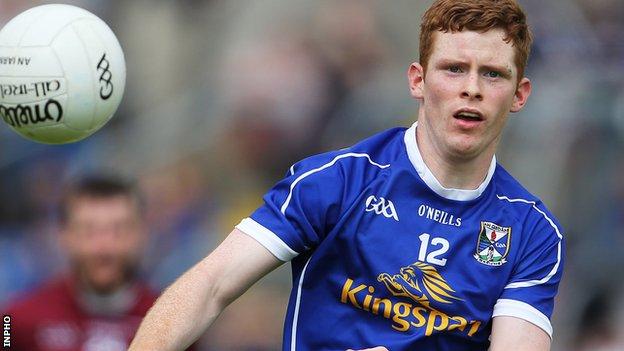 Cavan's hopes of promotion from Division Two have suffered a blow after this five-point defeat by Kildare.
Eoghan O'Flaherty scored Kildare's opening goal at Breffni Park before Cavan defender Damien O'Reilly was sent-off on 19 minutes.
Cavan led 0-8 to 1-4 at the break but the Lilywhites edged ahead, although David Hyland was dismissed to reduce the visitors to 14 men.
Daniel Flynn's late goal sealed victory for the Leinster side.
O'Flaherty hit the Cavan net seconds after Conor Gilsenan saved a penalty from Fionn Dowling after a foul on Eamon Callaghan.
O'Reilly's dismissal, after an off-the-ball incident, was a blow to the hosts but the game remained close with Niall McDermott and Martin Reilly among the Cavan scorers.
Kildare's Padraig O'Neill was black-carded before Dara McVeety popped up with the final point of the first half to give Cavan a narrow advantage at the interval.
Kildare moved in front early in the second half although points from McDermott and Gearoid McKiernan kept Cavan in touch.
Hyland was sent-off, also after an off-the-ball incident, and Cavan were just two back with five minutes to go.
But their hopes of a comeback were dashed when Flynn hit the net with two minutes remaining.
It's a second straight loss for Terry Hyland's team, who lie sixth after playing four games.
Saturday 7 March
Football League Division One
Dublin 1-9 0-12 Tyrone
Division Two
Cavan 0-14 2-13 Kildare
Meath 4-10 0-11 Westmeath
Division Three
Armagh 1-10 1-10 Fermanagh
Tipperary 2-11 1-8 Clare
Sunday 8 March
Football League Division One
Cork 3-17 2-9 Kerry
Derry 1-13 2-12 Mayo
Donegal 1-4 0-9 Monaghan
Division Two
Down 1-17 1-16 Galway
Laois 2-17 0-16 Roscommon
Division Three
Sligo 2-26 2-9 Louth
Wexford 1-16 2-12 Limerick
Division Four
Antrim 1-12 1-8 London
Offaly 2-13 1-16 Leitrim
Longford 1-12 1-10 Waterford
Carlow 0-9 0-9 Wicklow