Football League Division 1: Tyrone 2-10 0-17 Cork
Last updated on .From the section Gaelic Games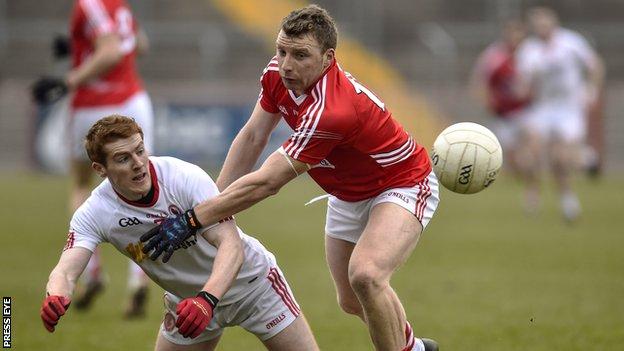 Cork fought back from five points down in the second half to edge out Tyrone in the Division 1 Football League game, helped by a controversial late point.
Colm O'Neill's closing Cork score appeared to be a wide but was awarded to help the Rebels lead by two and they held on to win by one at Healy Park.
First-half goals from Connor McAliskey and Peter Harte had Mickey Harte's side ahead by five at the break.
O'Neill hit eight points as the Red Hands remain without a win at home.
Cork arrived at Healy Park to be confronted by a defensive cordon, but they managed to breach it 17 times to take both Football League Division One points.
Tyrone were comfortably in front at the beginning of the final quarter, but Brian Cuthbert sprung fresh legs from the bench, and his side wore their opponents down.
The hosts got off to a dream start with a goal after just three minutes, McAliskey rifling home from Peter Harte's long delivery.
But Cork began to find enough space amidst a packed Red Hand defensive system to get the score-board ticking, with Colm O'Driscoll, Mark Collins and O'Neill all on target.
Tyrone grabbed a second goal in the 18th minute when Tomas Clancy fouled midfielder Padraig McNulty, and Harte slotted the penalty to the bottom corner of the net.
The Munster men responded with points from O'Neill and Hurley, but late points from McCurry and McAliskey sent Tyrone in with a 2-6 to 0-7 interval lead.
O'Neill slotted two more points early in the second half as Cork set about using their wind advantage to help them break down their opponents.
But there was to be more frustration, as they managed just one further point in the next 18 minutes. That came from Donncha O'Connor, who became a hugely influential figure off the bench, probing for openings and hitting a couple of crucial long range scores.
A triple substitution also brought Daniel Goulding, Donal Og Hodnett and John Hayes into the game, and all made an impact as Cork came good in the final 15 minutes, wearing their opponents down and picking off scores from distance.
Brian Hurley and O'Neill narrowed the gap, before O'Neill hit what proved to be the winner.
Tyrone: N Morgan, A McCrory, R McNamee, D Quinn, R McNabb, J McMahon, P Harte (1-0, pen), C Cavanagh, P McNulty, T McCann, M Donnelly, R McKenna, D McCurry (0-7, 5f), S Cavanagh, C McAliskey (1-3).
Subs: C McCann for McMahon, PJ Lavery for Quinn, D McBride for McKenna, P McNeice for McNamee
Cork: M Martin, J Loughrey, M Shields, C Dorman (0-1), T Clancy, S O'Donoghue, J O'Sullivan, E Cadogan, F Goold (0-1), K O'Driscoll, J O'Rourke, C O'Driscoll (0-1), C O'Neill (0-8, 3f, 1 '45), M Collins (0-1), B Hurley (0-2, 1f).
Subs: P Kerrigan for O'Donoghue, D O'Connor (0-2, 1f)for C O'Driscoll, D Goulding for K O'Driscoll, D Og Hodnett (0-1) for O'Rourke, J Hayes for Collins.
WEEKEND RESULTS
SATURDAY
Football League Division 1
Mayo 0-10 2-18 Dublin
Division 2
Meath 0-13 0-13 Laois
Hurling League Division 1A
Clare 2-22 2-20 Dublin
Division 1B
Limerick 0-21 1-21 Offaly
Division 2B
Kildare 3-20 1-14 Mayo
Division 3B
Longford 2-16 2-11 Warwickshire
SUNDAY
Football League Division 1
Kerry 2-13 2-11 Donegal
Monaghan 0-15 0-10 Derry
Tyrone 2-10 0-17 Cork
Division 2
Galway 0-10 0-12 Cavan
Kildare 2-12 0-24 Roscommon
Westmeath 0-10 2-17 Down
Division 3
Clare 1-11 3-11 Armagh
Fermanagh 2-19 2-10 Limerick
Louth 3-11 4-16 Tipperary
Sligo 2-10 1-08 Wexford
Division 4
Offaly 0-14 1-10 Carlow
Wicklow 1-10 1-16 Longford
Waterford 0-13 0-15 Antrim
Hurling League Division 1A
Tipperary 2-22 1-13 Kilkenny
Galway 0-20 2-17 Cork
Division 1B
Waterford 4-30 0-10 Antrim
Laois 0-25 5-22 Wexford
Division 2A
Carlow 3-17 1-24 Kerry
Westmeath 1-22 2-10 Wicklow
Division 2B
Down 4-17 2-11 Donegal
Meath 1-15 1-17 Armagh
Division 3A
Tyrone 1-20 2-07 Louth
Monaghan 0-18 2-12 Fingal
Roscommon 0-16 0-06 Fermanagh
Division 3B
Sligo 2-10 1-15 Leitrim