Football League: Armagh and Fermanagh close to promotion
Last updated on .From the section Gaelic Games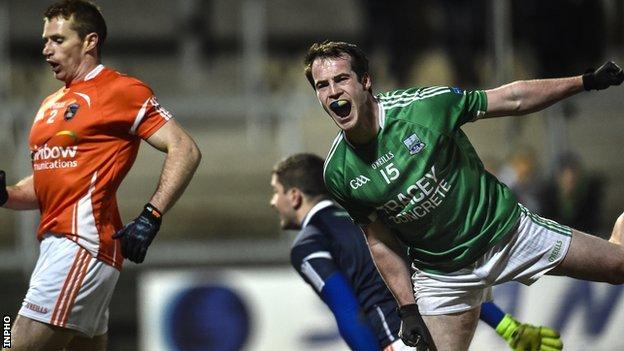 Armagh and Fermanagh both remain on course for promotion from Division Three of the Football League after winning their latest games on Sunday.
The Orchard men withstood a second-half revival by Clare as two Tony Kernan goals and an Ethan Rafferty strike helped see off Clare 3-11 to 1-11.
Sean Quigley fired 11 Fermanagh points in their 2-19 to 2-10 win over Limerick at Brewster Park.
Ruairi Corrigan hit a superb goal after Eoin Donnelly's early three-pointer.
Donnelly's third-minute goal helped Fermanagh lead 1-2 to 0-0 and while Robert Browne responded with a Limerick goal, Corrigan's superb individual effort after he waltzed past several defenders contributed to the Erne County's 2-7 to 1-5 interval advantage.
Fermanagh dominated the third quarter at Brewster Park to charge into a 2-14 to 1-6 lead and David Ward's late goal was little consolation for Limerick.
Rafferty's early goal and Kernan's 18th-minute strike helped Armagh lead 2-8 to 0-4 at half-time against Clare in Ennis.
The home side fought back by hitting an unanswered 1-5 after the restart helped by Pat Burke's goal but Armagh regrouped to regain control and Kernan's 65th-minute three-pointer sealed their victory.
Fermanagh and Armagh both move to nine points from five games after Sunday's wins.
One of them will definitely be promoted as third-placed Tipperary only have six points and one win from their final two games will be enough to guarantee Division 2 football for both the Ulster counties.
Armagh host Louth and will play Sligo again in their remaining games with Fermanagh facing trips to Wexford and Clare.
WEEKEND RESULTS
SATURDAY
Football League Division 1
Mayo 0-10 2-18 Dublin
Division 2
Meath 0-13 0-13 Laois
Hurling League Division 1A
Clare 2-22 2-20 Dublin
Division 1B
Limerick 0-21 1-21 Offaly
Division 2B
Kildare 3-20 1-14 Mayo
Division 3B
Longford 2-16 2-11 Warwickshire
SUNDAY
Football League Division 1
Kerry 2-13 2-11 Donegal
Monaghan 0-15 0-10 Derry
Tyrone 2-10 0-17 Cork
Division 2
Galway 0-10 0-12 Cavan
Kildare 2-12 0-24 Roscommon
Westmeath 0-10 2-17 Down
Division 3
Clare 1-11 3-11 Armagh
Fermanagh 2-19 2-10 Limerick
Louth 3-11 4-16 Tipperary
Sligo 2-10 1-08 Wexford
Division 4
Offaly 0-14 1-10 Carlow
Wicklow 1-10 1-16 Longford
Waterford 0-13 0-15 Antrim
Hurling League Division 1A
Tipperary 2-22 1-13 Kilkenny
Galway 0-20 2-17 Cork
Division 1B
Waterford 4-30 0-10 Antrim
Laois 0-25 5-22 Wexford
Division 2A
Carlow 3-17 1-24 Kerry
Westmeath 1-22 2-10 Wicklow
Division 2B
Down 4-17 2-11 Donegal
Meath 1-15 1-17 Armagh
Division 3A
Tyrone 1-20 2-07 Louth
Monaghan 0-18 2-12 Fingal
Roscommon 0-16 0-06 Fermanagh
Division 3B
Sligo 2-10 1-15 Leitrim