Football League Division 2: Cavan bounce back to defeat Galway
Last updated on .From the section Gaelic Games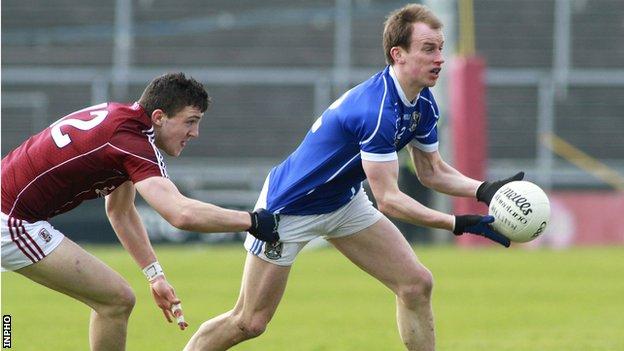 Cavan recovered from a five-point half-time deficit to ease any relegation worries by beating Galway in Football League Division Two at Salthill.
Jack Brady and Martin Dunne scored first-half points as the Breffnimen trailed 0-7 to 0-2 at the break, Dunne having a 27th-minute penalty saved.
Dunne was again prominent in the second half as Cavan drew level at 0-9 apiece and went on to run out the winners.
A 60-yard free from Martin Reilly helped seal the victory for his side.
Dara McVeety and James McEnroe also got their names on the scoresheet for Terry Hyland's visitors, who secured their first success in the League over Galway since 1936.
Michael Martin, Damien Comer, Paul Conroy and Danny Cummins were among the point-scorers for Galway.
Cavan manager Terry Hyland: "We fought very hard. We haven't scored a goal in the league yet this year but as long as we are winning, we don't mind. The goals will come eventually.
"The conditions for our last two home matches were very wet and windy - we prefer the dry ground like today. It's all about consolidating our position in Division Two."
TEAMS
Cavan: C Gilsenan, J McLoughlin, R Dunne, K Brady, J McEnroe, F Flanagan, C Moynagh, T Corr, G McKiernan, R Flanagan, D McVeety, M Reilly, C Mackey, J Brady, N McDermott.
Galway: M Breathnach; J Duane, F Hanley, C Sweeney; P Varley, G Bradshaw, G O'Donnell; F O Curraoin, E Tierney; S Denvir, M Martin, D Comer; D Cummins, P Conroy, A Varley.
WEEKEND RESULTS AND FIXTURES
WEEKEND RESULTS
SATURDAY
Football League Division 1
Mayo 0-10 2-18 Dublin
Division 2
Meath 0-13 0-13 Laois
Hurling League Division 1A
Clare 2-22 2-20 Dublin
Division 1B
Limerick 0-21 1-21 Offaly
Division 2B
Kildare 3-20 1-14 Mayo
Division 3B
Longford 2-16 2-11 Warwickshire
SUNDAY
Football League Division 1
Kerry 2-13 2-11 Donegal
Monaghan 0-15 0-10 Derry
Tyrone 2-10 0-17 Cork
Division 2
Galway 0-10 0-12 Cavan
Kildare 2-12 0-24 Roscommon
Westmeath 0-10 2-17 Down
Division 3
Clare 1-11 3-11 Armagh
Fermanagh 2-19 2-10 Limerick
Louth 3-11 4-16 Tipperary
Sligo 2-10 1-08 Wexford
Division 4
Offaly 0-14 1-10 Carlow
Wicklow 1-10 1-16 Longford
Waterford 0-13 0-15 Antrim
Hurling League Division 1A
Tipperary 2-22 1-13 Kilkenny
Galway 0-20 2-17 Cork
Division 1B
Waterford 4-30 0-10 Antrim
Laois 0-25 5-22 Wexford
Division 2A
Carlow 3-17 1-24 Kerry
Westmeath 1-22 2-10 Wicklow
Division 2B
Down 4-17 2-11 Donegal
Meath 1-15 1-17 Armagh
Division 3A
Tyrone 1-20 2-07 Louth
Monaghan 0-18 2-12 Fingal
Roscommon 0-16 0-06 Fermanagh
Division 3B
Sligo 2-10 1-15 Leitrim