Division Four: Antrim edge Waterford in Dungarvan
Last updated on .From the section Gaelic Games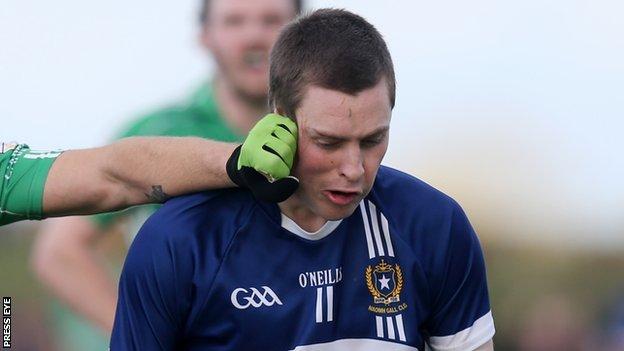 Antrim kept their promotion push on track by beating Waterford 0-15 to 0-13 in their Division Four clash.
Antrim led by two points, 0-9 to 0-7, at the break and they maintained that advantage in a scrappy second half.
The Saffrons' more clinical finishing proved decisive at Walsh Park as CJ McGourty top-scored with 0-9, Michael Pollock contributing four points.
Crucially, Paul White missed a penalty for Waterford, shooting wide from the spot two minutes from time.
Ryan Murray was impressive for the visitors, while goalkeeper Chris Kerr distinguished himself with a number of fine saves.
Conor Murray also pointed for Antrim as the hosts were unable to convert their possession and territory into points.
Antrim: C Kerr; M Kane, S McVeigh, D Lynch; J Laverty, J Crozier, T Scullion; M McCann, B Hasson; C Murray, O Gallagher, P McBride; R Murray, M Pollock, CJ McGourty.
WEEKEND RESULTS
SATURDAY
Football League Division 1
Mayo 0-10 2-18 Dublin
Division 2
Meath 0-13 0-13 Laois
Hurling League Division 1A
Clare 2-22 2-20 Dublin
Division 1B
Limerick 0-21 1-21 Offaly
Division 2B
Kildare 3-20 1-14 Mayo
Division 3B
Longford 2-16 2-11 Warwickshire
SUNDAY
Football League Division 1
Kerry 2-13 2-11 Donegal
Monaghan 0-15 0-10 Derry
Tyrone 2-10 0-17 Cork
Division 2
Galway 0-10 0-12 Cavan
Kildare 2-12 0-24 Roscommon
Westmeath 0-10 2-17 Down
Division 3
Clare 1-11 3-11 Armagh
Fermanagh 2-19 2-10 Limerick
Louth 3-11 4-16 Tipperary
Sligo 2-10 1-08 Wexford
Division 4
Offaly 0-14 1-10 Carlow
Wicklow 1-10 1-16 Longford
Waterford 0-13 0-15 Antrim
Hurling League Division 1A
Tipperary 2-22 1-13 Kilkenny
Galway 0-20 2-17 Cork
Division 1B
Waterford 4-30 0-10 Antrim
Laois 0-25 5-22 Wexford
Division 2A
Carlow 3-17 1-24 Kerry
Westmeath 1-22 2-10 Wicklow
Division 2B
Down 4-17 2-11 Donegal
Meath 1-15 1-17 Armagh
Division 3A
Tyrone 1-20 2-07 Louth
Monaghan 0-18 2-12 Fingal
Roscommon 0-16 0-06 Fermanagh
Division 3B
Sligo 2-10 1-15 Leitrim