Hurling League Division 1B: Waterford wallop sorry Saffrons
Last updated on .From the section Gaelic Games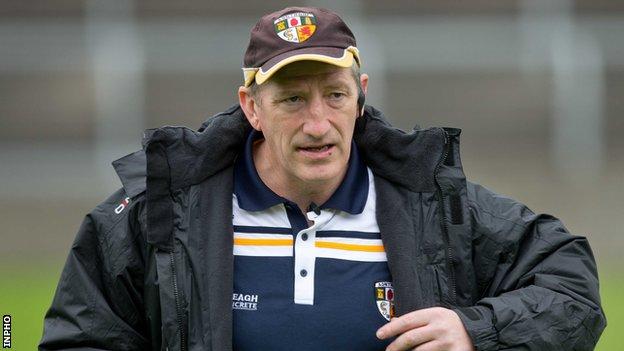 Antrim were trounced 4-30 to 0-10 by Waterford in their Division 1B Hurling League game at Walsh Park on Sunday.
A Stephen Bennett goal helped the hosts to a 1-13 to 0-5 half-time lead and Maurice Shanahan (2) and Tom Devine added further goals after the interval.
Waterford dominated throughout as they outclassed Kevin Ryan's Saffrons.
Paul Shiels landed five frees for Antrim, with Ciaran Johnston, Conor Johnston and Shane McNaughton also registering scores for the visitors.
The Saffrons were close to full strength on Sunday and the deterioration in Antrim's form since their opening unlucky away defeat by Wexford must be a concern for manager Ryan.
Following that game, Antrim were competitive in losing in Ballycastle against Limerick but the wheels appear to have come off over the last fortnight as the disappointing home reverse by Laois was followed by Sunday's humiliation.
Offaly's surprise victory over Limerick on Saturday means Antrim are now certain to face Laois away in the relegation play-off, in a game which is scheduled to take place on 29 March.
Prior to that, Antrim will face Offaly in their remaining Division 1B group game next weekend.
WEEKEND RESULTS
SATURDAY
Football League Division 1
Mayo 0-10 2-18 Dublin
Division 2
Meath 0-13 0-13 Laois
Hurling League Division 1A
Clare 2-22 2-20 Dublin
Division 1B
Limerick 0-21 1-21 Offaly
Division 2B
Kildare 3-20 1-14 Mayo
Division 3B
Longford 2-16 2-11 Warwickshire
SUNDAY
Football League Division 1
Kerry 2-13 2-11 Donegal
Monaghan 0-15 0-10 Derry
Tyrone 2-10 0-17 Cork
Division 2
Galway 0-10 0-12 Cavan
Kildare 2-12 0-24 Roscommon
Westmeath 0-10 2-17 Down
Division 3
Clare 1-11 3-11 Armagh
Fermanagh 2-19 2-10 Limerick
Louth 3-11 4-16 Tipperary
Sligo 2-10 1-08 Wexford
Division 4
Offaly 0-14 1-10 Carlow
Wicklow 1-10 1-16 Longford
Waterford 0-13 0-15 Antrim
Hurling League Division 1A
Tipperary 2-22 1-13 Kilkenny
Galway 0-20 2-17 Cork
Division 1B
Waterford 4-30 0-10 Antrim
Laois 0-25 5-22 Wexford
Division 2A
Carlow 3-17 1-24 Kerry
Westmeath 1-22 2-10 Wicklow
Division 2B
Down 4-17 2-11 Donegal
Meath 1-15 1-17 Armagh
Division 3A
Tyrone 1-20 2-07 Louth
Monaghan 0-18 2-12 Fingal
Roscommon 0-16 0-06 Fermanagh
Division 3B
Sligo 2-10 1-15 Leitrim