Division One Football League: Kerry 2-13 2-11 Donegal
Last updated on .From the section Gaelic Games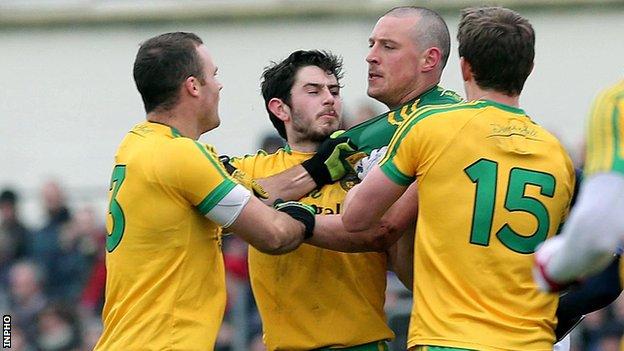 Kerry repeated their All-Ireland Final win from last year as they held off Donegal in the Division One encounter.
Bryan Sheehan hit three early points for Kerry but Ryan McHugh's goal helped Donegal lead before the Kingdom moved 0-9 to 1-5 ahead by the interval.
A Colm McFadden point contributed to Donegal regaining the lead but a Barry John Keane goal and a David Moran penalty saw Kerry move five clear.
Michael Murphy's 68th-minute penalty cut Kerry's lead but they held on.
McFadden equalled Brian Roper's Donegal appearance record of 129 when he was introduced in the second half.
Sheehan's three early frees helped Kerry lead but after Murphy and Patrick McBrearty had opened Donegal's account, McHugh's 10th-minute goal put the visitors ahead.
Kerry regrouped to lead by 0-9 to 1-2 ahead but points from Murphy and Martin McElhinney helped Donegal cut the margin to one by half-time.
Points from Murphy and McBrearty put Donegal ahead after the resumption but Keane's 45th-minute palmed goal restored Kerry's lead.
Donegal twice got to within a point of Kerry with McFadden and Mark McHugh also guilty of firing a couple of bad wides.
Moran's penalty put five between the teams with 10 minutes left and while that margin was reduced to only two in the 68th minute as Murphy netted his spot-kick following a foul on McFadden, Kerry held on to take the points in a game watched by over 6,000 spectators.
WEEKEND RESULTS
SATURDAY
Football League Division 1
Mayo 0-10 2-18 Dublin
Division 2
Meath 0-13 0-13 Laois
Hurling League Division 1A
Clare 2-22 2-20 Dublin
Division 1B
Limerick 0-21 1-21 Offaly
Division 2B
Kildare 3-20 1-14 Mayo
Division 3B
Longford 2-16 2-11 Warwickshire
SUNDAY
Football League Division 1
Kerry 2-13 2-11 Donegal
Monaghan 0-15 0-10 Derry
Tyrone 2-10 0-17 Cork
Division 2
Galway 0-10 0-12 Cavan
Kildare 2-12 0-24 Roscommon
Westmeath 0-10 2-17 Down
Division 3
Clare 1-11 3-11 Armagh
Fermanagh 2-19 2-10 Limerick
Louth 3-11 4-16 Tipperary
Sligo 2-10 1-08 Wexford
Division 4
Offaly 0-14 1-10 Carlow
Wicklow 1-10 1-16 Longford
Waterford 0-13 0-15 Antrim
Hurling League Division 1A
Tipperary 2-22 1-13 Kilkenny
Galway 0-20 2-17 Cork
Division 1B
Waterford 4-30 0-10 Antrim
Laois 0-25 5-22 Wexford
Division 2A
Carlow 3-17 1-24 Kerry
Westmeath 1-22 2-10 Wicklow
Division 2B
Down 4-17 2-11 Donegal
Meath 1-15 1-17 Armagh
Division 3A
Tyrone 1-20 2-07 Louth
Monaghan 0-18 2-12 Fingal
Roscommon 0-16 0-06 Fermanagh
Division 3B
Sligo 2-10 1-15 Leitrim