Football League Division 2: Down defeat Westmeath at Mullingar
Last updated on .From the section Gaelic Games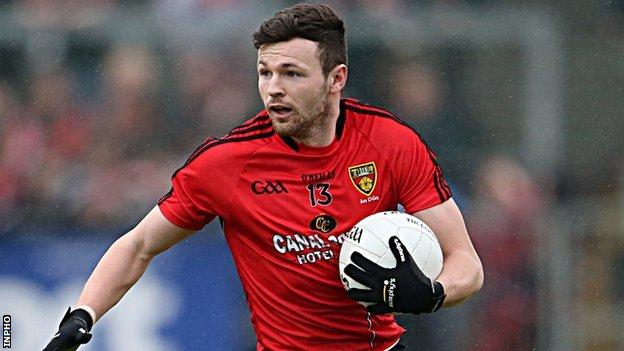 Down are three points clear at the top of Football League Division Two after comfortably beating Westmeath 2-17 to 0-10 at Mullingar.
Down led 0-9 to 0-2 at half-time and goals from Arthur McConville and Donal O'Hare within a two-minute period early in the second half increased the lead.
McConville had earlier smashed the ball against the crossbar with his fist.
O'Hare top-scored for the Mournemen with 1-5, with McConville contributing 1-2 for Jim McCorry's outfit.
The visitors, who saw off Galway by a point last week, began the game brightly and built up a sizeable half-time advantage thanks to points from Mark Poland (3), McConville (2), Conor Laverty, Darragh O'Hanlon, Donal O'Hare and Kevin McKernan.
McConville's goal two minutes after the break was followed by one from O'Hare two minutes later.
Down manager Jim McCorry: "It was a very good performance, a real team effort which was delightful to watch from a coaching point of view.
"We put over some good scores and were determined not to stand off the opposition and give them space to play."
WEEKEND RESULTS
SATURDAY
Football League Division 1
Mayo 0-10 2-18 Dublin
Division 2
Meath 0-13 0-13 Laois
Hurling League Division 1A
Clare 2-22 2-20 Dublin
Division 1B
Limerick 0-21 1-21 Offaly
Division 2B
Kildare 3-20 1-14 Mayo
Division 3B
Longford 2-16 2-11 Warwickshire
SUNDAY
Football League Division 1
Kerry 2-13 2-11 Donegal
Monaghan 0-15 0-10 Derry
Tyrone 2-10 0-17 Cork
Division 2
Galway 0-10 0-12 Cavan
Kildare 2-12 0-24 Roscommon
Westmeath 0-10 2-17 Down
Division 3
Clare 1-11 3-11 Armagh
Fermanagh 2-19 2-10 Limerick
Louth 3-11 4-16 Tipperary
Sligo 2-10 1-08 Wexford
Division 4
Offaly 0-14 1-10 Carlow
Wicklow 1-10 1-16 Longford
Waterford 0-13 0-15 Antrim
Hurling League Division 1A
Tipperary 2-22 1-13 Kilkenny
Galway 0-20 2-17 Cork
Division 1B
Waterford 4-30 0-10 Antrim
Laois 0-25 5-22 Wexford
Division 2A
Carlow 3-17 1-24 Kerry
Westmeath 1-22 2-10 Wicklow
Division 2B
Down 4-17 2-11 Donegal
Meath 1-15 1-17 Armagh
Division 3A
Tyrone 1-20 2-07 Louth
Monaghan 0-18 2-12 Fingal
Roscommon 0-16 0-06 Fermanagh
Division 3B
Sligo 2-10 1-15 Leitrim