Football League Division 1: Monaghan 0-15 0-10 Derry
Last updated on .From the section Gaelic Games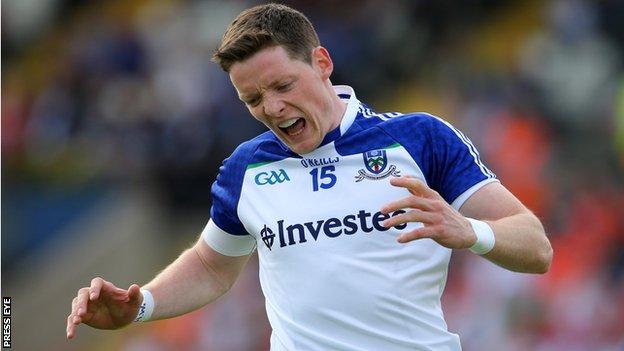 Monaghan pushed Derry closer to relegation by taking a comfortable win in the Division 1 Football League game.
Fourteen of the home side's points came from play with Conor McManus hitting 0-6 and Dessie Mone 0-4 at Clones.
McManus should have scored a first-half goal as Monaghan only led 0-8 to 0-5 at the break despite dominating.
Monaghan did have a let-off when an Emmett McGuckin goal was ruled out for a square ball in the second half but the Farney men deserved their victory.
McGuckin hit the opening score of the game but with Darren Hughes impressive at midfield, Monaghan took control to move into a 0-8 to 0-3 lead.
McManus and Kieran Hughes were causing major difficulties for the Derry defence and the McManus missed his goal chance when he fisted against the crossbar when a goal appeared certain.
Two Mark Lynch frees left a kick of the ball between the sides at the break and the margin was twice cut to two points after the resumption.
By that stage, Derry were without Eoin Bradley who came on as a substitute late in the first half but was unable to reappear for the second period because of injury.
Points from McManus and Paul Finlay extended Monaghan's lead to four before Derry's last chance of a fightback was ended by the referee's decision to disallow McGuckin's palmed goal.
With Derry deflated by that decision, further McManus and Mone scores helped Monaghan earn the win which moves them on to third place in Division 1 on six points and in strong contention for a semi-final place.
However, relegation now beckons for Derry who may suffer the drop even in the unlikely event of them winning their final two games away to Dublin and at home to leaders Cork.
WEEKEND RESULTS
SATURDAY
Football League Division 1
Mayo 0-10 2-18 Dublin
Division 2
Meath 0-13 0-13 Laois
Hurling League Division 1A
Clare 2-22 2-20 Dublin
Division 1B
Limerick 0-21 1-21 Offaly
Division 2B
Kildare 3-20 1-14 Mayo
Division 3B
Longford 2-16 2-11 Warwickshire
SUNDAY
Football League Division 1
Kerry 2-13 2-11 Donegal
Monaghan 0-15 0-10 Derry
Tyrone 2-10 0-17 Cork
Division 2
Galway 0-10 0-12 Cavan
Kildare 2-12 0-24 Roscommon
Westmeath 0-10 2-17 Down
Division 3
Clare 1-11 3-11 Armagh
Fermanagh 2-19 2-10 Limerick
Louth 3-11 4-16 Tipperary
Sligo 2-10 1-08 Wexford
Division 4
Offaly 0-14 1-10 Carlow
Wicklow 1-10 1-16 Longford
Waterford 0-13 0-15 Antrim
Hurling League Division 1A
Tipperary 2-22 1-13 Kilkenny
Galway 0-20 2-17 Cork
Division 1B
Waterford 4-30 0-10 Antrim
Laois 0-25 5-22 Wexford
Division 2A
Carlow 3-17 1-24 Kerry
Westmeath 1-22 2-10 Wicklow
Division 2B
Down 4-17 2-11 Donegal
Meath 1-15 1-17 Armagh
Division 3A
Tyrone 1-20 2-07 Louth
Monaghan 0-18 2-12 Fingal
Roscommon 0-16 0-06 Fermanagh
Division 3B
Sligo 2-10 1-15 Leitrim