Division One: Monaghan 1-11 1-22 Dublin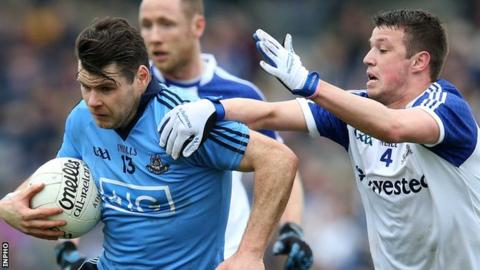 Monaghan fell to a heavy 1-22 to 1-11 defeat at home to Dublin but still made it into the Division One semi-finals.
Ironically, they will have to face the Dubs again in the last four at Croke Park next weekend.
Dublin scored an early goal through late replacement Brian Fenton and went on to lead 1-9 to 0-5 at half-time with Monaghan's Dessie Mone black-carded.
The Dubs kept on chalking up the scores and Monaghan lost by 11 points despite a goal through Darren Hughes.
"We are disappointed with our performance. Dublin were obviously coming up here for the win," said Monaghan boss Malachy O'Rourke.
"If you are a wee bit off your game against Dublin they will exploit it big time. They found it to easy to break through our defence.
"We kept losing the ball in the tackle and Dublin were very good and just made it a tough afternoon for us.
"Dessie getting the black card did not help. It was a tough day and we will have a look at it.
"We have the dubious pleasure of playing Dublin again but our boys will bounce back."
Football League results for Sunday, 5 April
Division One
Derry 2-15 1-11 Cork
Mayo 0-12 1-9 Donegal
Monaghan 1-11 1-22 Dublin
Tyrone 0-17 1-14 Kerry
Division Two
Down 3-12 1-15 Laois
Galway 3-12 1-12 Kildare
Meath 0-14 0-12 Cavan
Westmeath 0-12 2-13 Roscommon
Division Three
Clare 1-14 2-9 Fermanagh
Louth 2-11 2-13 Limerick
Sligo 1-19 1-8 Armagh
Tipperary 2-12 2-15 Wexford
Division Four
Carlow 1-12 1-18 Longford
Offaly 1-13 1-7 Antrim
Wicklow 0-12 2-8 London