Division One: Tyrone 0-17 1-14 Kerry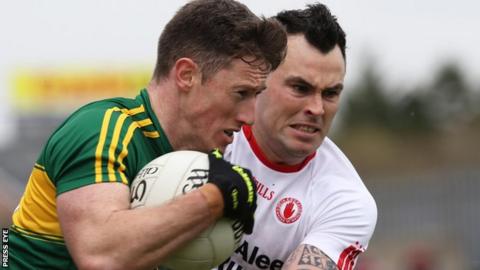 Tyrone have been relegated from Division One after drawing 0-17 to 1-14 with Kerry at Healy Park.
Kerry survived by avoiding a two-point defeat which would have sent them down to Division Two.
A second half goal by sub Paul Geaney was the crucial score on a day that Colm Cooper made his return from injury with a first appearance of the season.
Tyrone were 0-08 to 0-07 up at the break, with captain Sean Cavanagh scoring four frees.
Bryan Sheehan landed three for Kerry before the break.
Geaney got in for his 45th-minute goal, and Darran O'Sullivan edged the Munster men four ahead.
But Tyrone battled heroically to fight their way back, and scores from Darren McCurry and Cavanagh got them back level.
Cavanagh, Joe McMahon and Mattie Donnelly all had goal chances, the latter smashing his shot against a post in the dying moments.
In the end, the Kingdom just about deserved the result that keeps them in the top division.
Football League results for Sunday, 5 April
Division One
Derry 2-15 1-11 Cork
Mayo 0-12 1-9 Donegal
Monaghan 1-11 1-22 Dublin
Tyrone 0-17 1-14 Kerry
Division Two
Down 3-12 1-15 Laois
Galway 3-12 1-12 Kildare
Meath 0-14 0-12 Cavan
Westmeath 0-12 2-13 Roscommon
Division Three
Clare 1-14 2-9 Fermanagh
Louth 2-11 2-13 Limerick
Sligo 1-19 1-8 Armagh
Tipperary 2-12 2-15 Wexford
Division Four
Carlow 1-12 1-18 Longford
Offaly 1-13 1-7 Antrim
Wicklow 0-12 2-8 London
Division One semi-finals
Cork v Donegal
Dublin v Monaghan