Mark McHugh hopes to be fit for Ulster SFC opener against Tyrone
Last updated on .From the section Gaelic Games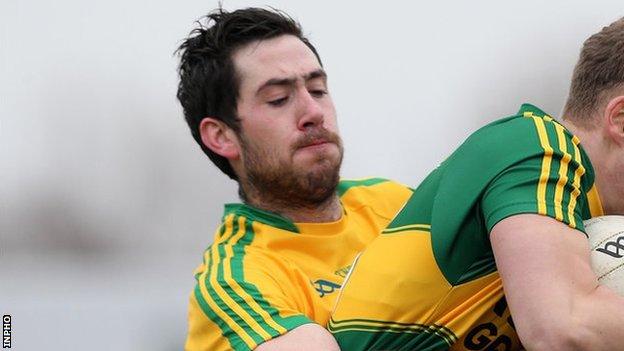 Mark McHugh is aiming to be fit to play some part in Donegal's Ulster SFC preliminary round tie against Tyrone at Ballybofey on 17 May.
McHugh suffered cracked ribs in a club match and is also overcoming a quad injury which has not healed properly.
"The rib injury kind of hindered me for a while and I have the quad injury now.
"I've been back in full training this week and now it's all down to the work I put in in the next 11 days if I'm to play a part in the game," said McHugh.
McHugh opted out of inter-county football last season less than a month before the county's Ulster Championship clash with Derry and missed his side's journey to the All-Ireland final.
He had helped Donegal to All-Ireland success in 2012, subsequently collecting an All Star.
"I felt myself that I needed a wee break - my heart was not kind of in it and I felt I would just be making up the numbers.
"I needed to take a step back and view things from the sidelines for a while, then get my mind together. I think the break has helped me.
"I was back buzzing in January and February and my drive was back again so that convinced me that I made the right decision."
The Donegal player expects the much-anticipated Championship opener to be closely contested.
"It's going to be tense for the first 15 or 20 minutes while the teams size each other up. It will all come down to who plays the better football on the day," he added.