A classic Derry and Down encounter for the ages

By Thomas Niblock
BBC GAA commentator
Last updated on .From the section Gaelic Games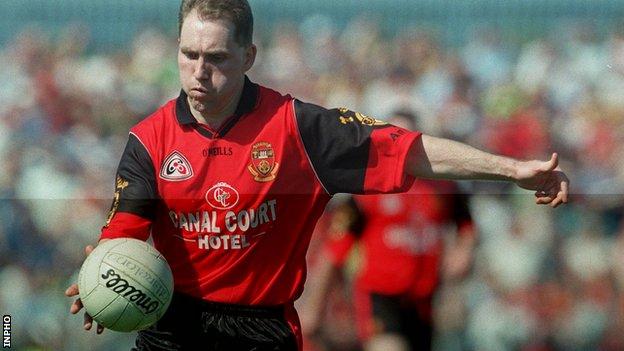 I remember it well.
Memories still fresh of Derry's historic capture of Sam Maguire and in the stunning spring sunshine of Celtic Park in 1994, I'm dressed in my '93 top, shorts and socks raised knee height, Dermot McNicholl-style.
I remember the devastation. Derry's summer was over before it began. Our proud reign as All-Ireland champions was over.
My primary school days were coming to an end, Eamon Coleman was on the way out as Derry manager and nothing could console me.
Time is a great healer, so on the 21st birthday of one of the greatest games of all time, it's nice to appreciate the wonderful events of that day, 29 May 1994.
The fact that Down went on to replace us later that year as Ulster and All-Ireland champions
When I attended Queen's University, James McCartan took his first managerial job, guiding the university to the All-Ireland Freshers title.
My first thought on that cold Monday night at training behind the PEC in Belfast was, 'How could that small man, the smallest player on the pitch in '94, be first man to grab hold of the ball from the throw-in? How did he skin Kieran McKeever and Karl Diamond to hit that score during the second half?'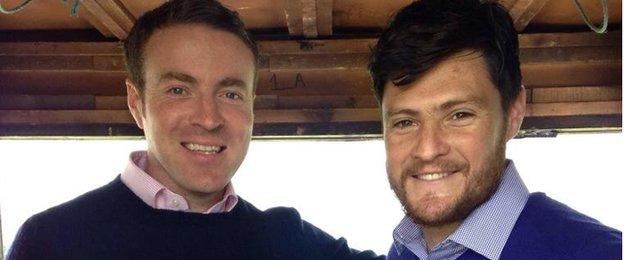 Couple of years later I did my driving test- the only available appointment was in Newry. Out came another Down legend, Mickey Linden. "Hello Mr Niblock, I'll be your examiner today. Can you read the letters on that number plate?"
While scooting around Newry, my thoughts raced back and forward to his performance in '94. Gary Coleman was from my club, a childhood hero while he played for Magherafelt and Derry. Mickey got the better of Gary that day (with the aid of Greg Blaney). Gary told me recently he's never watched the game back.
Speaking of Blaney, my BBC NI colleague Katrina McManus films a 'Meet the Legend' series during the championship summer. And there he was again, Greg Blaney. The man that tortured my soul as a cub, watching him pick out passes at will up at Celtic Park.
So it's Down and Derry again.
Again in Celtic Park.
Again in the first round of the Ulster Championship.
Martin Clarke, Oisin McConville and Paddy Bradley will be on punditry duty for television. John Clarke, Brendan Devenney and Adrian McGuckin will be providing the expertise for BBC Radio Ulster 1341 MW.
Adrian will have a busy day. He's part of the 1965 All-Ireland winning minor team who will be paraded at half-time. Derry have won the Tom Markham Cup three times since then. All three managers came from that 1965 team.
The class of 2015 will write their own piece of history adding to the great memories this fixture has provided throughout the years. There are many things that are negative about the GAA, and certainly much to improve upon.
But sometimes it's nice to reflect on a sport that creates memories that last a lifetime.
Happy 21st.
Derry v Down will be live BBC2 Northern Ireland on Sunday from 13.30 BST with analysis from Martin Clarke, Paddy Bradley and Oisin McConville, and Martin McHugh on co-commentary.