Derry missed big chance against off-key Donegal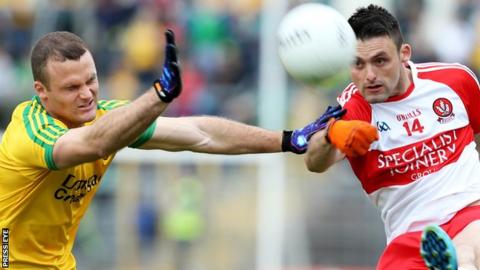 Donegal are through to the Ulster final again - but Derry will be kicking themselves for not taking their big opportunity.
After a superb performance in crushing Armagh in the quarter-final, Donegal were definitely flat at Clones on Saturday night.
I do not think there is one Donegal player who could say they played well.
But, in a strange way, it could turn out to be a good day for Donegal because if they had obliterated Derry, they might have been on a hiding to nothing going into the final against Monaghan.
I do not know what happened between that massive win over Armagh and this match against Derry, but Donegal just did not seem as focussed. Donegal probably thought they were ready to go, but sometimes it just does not happen.
I heard from someone who was at training say that it was perhaps a bit too relaxed - everybody was in happy, jolly form. Maybe they went into the match in the wrong way.
Certainly Donegal were not right and I expect there will be some tough training ahead of the final.
The heads must be back on and Rory Gallagher's men must be tough and effective again.
One thing is for sure, if they play like that against Monaghan they will lose at Clones on 19 July.
I think the Donegal players will be angry and disappointed about how they played against Derry.
This game could have a huge bearing on Donegal's season because after their brilliance against Armagh, they were completely flat against Derry.
But Monaghan won't be fooled. They know they can expect to see a different Donegal team run out for the final. Malachy O'Rourke, the Monaghan boss, will discard this performance because he knows Donegal were not at themselves.
As for the defeated Oak Leaf side, manager Brian McIver is probably right when he says they have only themselves to blame.
Donegal were off key and were there for the taking, but Derry just did not seem to have the confidence and they will rue that.
If they had hit Donegal hard at certain times they would have won that game and surprised a lot of people.
Brendan Devenney was speaking to BBC Radio Ulster