Drew Wylie could make surprise Ulster SFC final appearance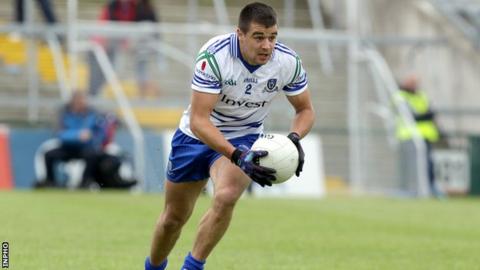 Monaghan's Drew Wylie could make a surprise appearance in the Ulster SFC final after it was revealed he has not suffered cruciate knee ligament damage after all.
The Ballybay full-back thought his season was over after sustaining a knee injury during a club match.
The setback came a week after the Farney County's Ulster Championship first round win over Cavan on 24 May.
A second opinion has confirmed the injury to be medial ligament damage.
With a usual recovery period of six to eight weeks, an appearance in the Ulster final against Donegal on July 19 is unlikely, but he is set to play some role in Monaghan's championship season.
"Initially we thought it was a cruciate injury but on further investigation we found it is not a cruciate injury after all," confirmed Monaghan manager Malachy O'Rourke.
"It is medial ligament damage and he is in the early stages of his recuperation, so it is a lot better than we initially thought.
"We thought he was gone for the year but that thankfully is not the case.
"On a more detailed examination, he was discovered that it (cruciate) wasn't gone, so we are delighted."
When asked if Wylie could be in line for a fairytale comeback against Donegal at Clones, the Monaghan manager replied: "I would have imagined that would be a complete no no, but I suppose you never say never".
"There's always hope and I suppose there is always a chance of that."
Forward Christopher McGuinness, who came off the bench in both wins over Cavan and Fermanagh, is wearing a protective moon boot as a precaution after going over on his ankle last weekend.
However he should be in contention to make the match-day squad as Monaghan prepare to face Donegal in the provincial decider for a third year in a row.