All-Ireland qualifiers: Fermanagh to face Westmeath in last 12
Last updated on .From the section Gaelic Games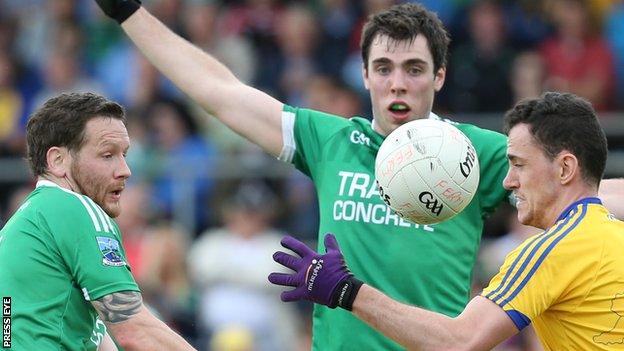 Fermanagh have been handed a glorious chance to progress to the All-Ireland Football quarter-finals after being drawn against Westmeath in the final round of qualifiers.
The Ernemen came from six points down to stun Roscommon in Sunday's qualifier at Brewster Park.
Fermanagh's last-12 encounter will take place at Breffni Park on 25 July.
Tyrone will be away to Tipperary next Saturday with Derry taking on Galway at Salthill on the same afternoon.
The Red Hands and Derry are a round behind Fermanagh in the qualifiers so the winners of next weekend's two games will face either the beaten Ulster or Connacht finalists in the last 12.
A number of the Tyrone and Tipperary players were involved in a controversial All-Ireland Under-21 final in May when the Red Hands won by a single point.
Victorious Tyrone manager Feargal Logan was denied entry to the Tipperary dressing-room by the Premier County's management after the game as is customary following GAA matches.
The final round of qualifiers will also see Kildare facing the losers of the Munster Final replay between Kerry and Cork on 25 July.
Another upshot of the draw is that it opens the prospect of Derry or Tyrone facing the Ulster Final losers (either Donegal or Monaghan) in the last 12.
Westmeath were surprise Leinster finalists are shocking Meath in the provincial semi-final but they were hammered 2-13 to 0-6 by Dublin in Sunday's decider at Croke Park.
However, Fermanagh manager Peter McGrath says Westmeath will view the draw as favourable after they also avoided a tussle with either Cork or Kerry.
"Westmeath are probably looking thinking about the draw in much the same way as ourselves in that they will feel that they probably aren't on not on a par with Cork or Kerry at this stage anyway," McGrath told BBC Sport.
"But we have to respect Westmeath. You look back at the way that they played in the second half of their game against Meath when they played with a panache and a pace and style of play that was hugely impressive.
"Now I haven't yet seen the tape of yesterday's game against Dublin but Westmeath have showed in this championship they can are capable of playing very good football."
Twice All-Ireland senior title winning manager McGrath was still reflecting on Sunday's "amazing finish" to the game against Roscommon.
"It's been interesting reading some of the newspaper accounts of the game today. I'm not sure that a lot of them got it entirely right in their assessment of the game.
"We were five points down (0-9 to 0-4) at half-time but we hit nine wides in the first half and I think they only had one.
"We missed a couple of goals chances in the first half and I felt we could have been level or maybe even in a better position at half-time.
"Then after scoring the penalty, we went five down again but I never felt we were out of the game even though we produced an incredible last five or six minutes of play to win it."
Fermanagh don't appear to have picked up any major knocks in Sunday's game with Barry Mulrone expected to be available on 25 July despite an ankle twinge and Ruairi Corrigan coming through unscathed after being introduced following his recent injury problems.
ROUND 3B FOOTBALL QUALIFIERS
Saturday 18 July
Tipperary v Tyrone, Thurles, 15:00 BST
Galway v Derry, Salthill, 17:00
ROUND 4A FOOTBALL QUALIFIERS
Saturday 25 July
Kildare v Cork/Kerry losers, venue tbc, 19:00
Fermanagh v Westmeath, Breffni Park, 17:00