Ballinderry and Derry player Aaron Devlin dies after illness
Last updated on .From the section Gaelic Games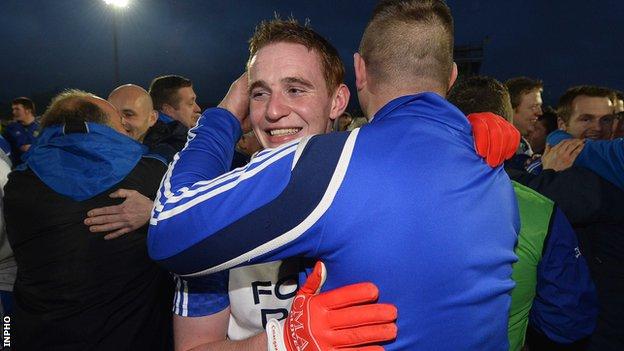 Ballinderry and Derry forward Aaron Devlin has died in hospital after contracting meningitis last week.
The 23-year-old was taken to Antrim Area Hospital two days after playing a challenge game for his club.
"Following a characteristically hard-fought battle with a sudden illness, our son, brother and friend Aaron has left us," said the Devlin family.
"Thanks Aaron for the laughs, the tears, the smiles, the strength, the pride... for everything."
"This has been an unimaginably tough and dark time for us - and will continue to be," the family statement added.
"The actions, words, prayers, kindness, and support from so many people has genuinely touched us.
"We may never be able to thank everyone for it, but please know that it has helped us realise just what an impact he made on this world in just 23 years. We have gained so much strength and pride from it.
"We now hope that the many memories Aaron has given us will help us through the challenge that we must now face together."
The Oak Leaf forward, who recently qualified as a physiotherapist, played for only 40 minutes of the game before citing tiredness for his decision to come off.
"Aaron Devlin has sadly passed away, please continue to pray and support Aaron's family at this sad time. #RIP #HERO," tweeted Ballinderry.
GAA president Aogan O Fearghail said the player "represented both his native county Derry and his home club Ballinderry with distinction and was highly regarded across his native county and further afield".
He added: "The tragic news of Aaron's passing has shocked people right across the wider GAA family.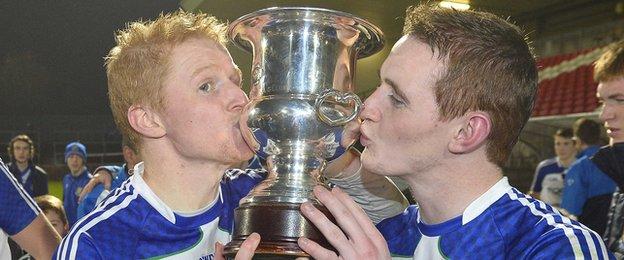 "He carried himself with distinction both on and off the field and the messages of support since he fell ill were indicative of the upstanding character that he was."
Derry have paid tribute to the young half-forward, saying it was "difficult to comprehend devastation that the Devlin family and wider community of Ballinderry must be feeling at this time".
"This tragedy will be felt throughout the wider Derry GAA family," added the county.
Devlin also played for the University of Ulster Jordanstown, who said it was with a "sense of sadness" that they learned of Aaron's death.
"UUJ has lost a player and a friend, a person who would light up every possible environment," it added.
"A talented athlete, a character, a fun person always willing to help others. We consider it a total privilege to have known you Aaron and we are all the better for it.
"Ulster University Gaelic Academy extends its deepest sympathies to the family and friends of Aaron."