Harte says McCann knows he made mistake after play-acting row
Last updated on .From the section Gaelic Games
Tyrone boss Mickey Harte says Tiernan McCann knows he "made a mistake" after his play-acting contributed to the red carding of Monaghan's Darren Hughes in Saturday's All-Ireland quarter-final.
McCann has come in for strong criticism for collapsing to the Croke Park turf after Hughes gently ruffled his hair.
Harte told BBC Sport Northern Ireland that McCann would "wish to have responded differently".
However, Harte also defended McCann, describing him as a "fine young man".
Hughes's sending-off in injury-time did not materially affect Saturday's result as the Red Hands were already assured of victory but RTE GAA pundits Colm O'Rourke and Ciaran Whelan have been among those to strongly criticise McCann's actions.
O'Rourke described the late incident as dreadful with Whelan dubbing McCann's behaviour as appalling.
Amid the furore, Tyrone manager Harte did feel compelled to address the issue in his BBC interview on Monday.
"On behalf of Tiernan McCann, I'm saying if he had the chance again, he probably would have responded differently. We all accept that," added the Tyrone boss.
"But I don't think he's the first person to ever have over-reacted to anything and I don't think he will be the last.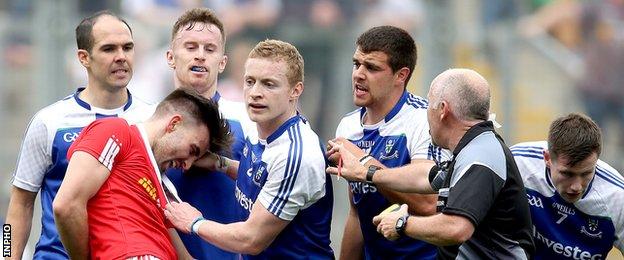 "There are plenty of precedents there which have happened before and didn't cause the same furore.
"Tiernan McCann is a fine young man and a wonderful footballer.
"He did lots of very good things on Saturday in the game which seem to have been overlooked."
Harte also insisted that McCann was "not entirely to blame" for the controversial incident.
"If the player who had raised his hand had chosen to do something different, then the outcome would have been different as well.
"I don't think you can throw all the blame at Tiernan McCann even though he himself said he would do something different if he had the chance to do it again.
"That's life. Young people make mistakes from time to time.
"Tiernan was the first man to say: 'I should have responded differently'. He accepted that and we've accepted that."
Harte, meanwhile, says Joe McMahon will face a race against time to be fit for the All-Ireland semi-final against Kerry on 23 August after sustaining a groin injury early in Saturday's win.
The Tyrone boss added that the McMahon's injury could require "some form of medical intervention".