Tyrone boss Harte says McCann will appeal against eight-week ban
Last updated on .From the section Gaelic Games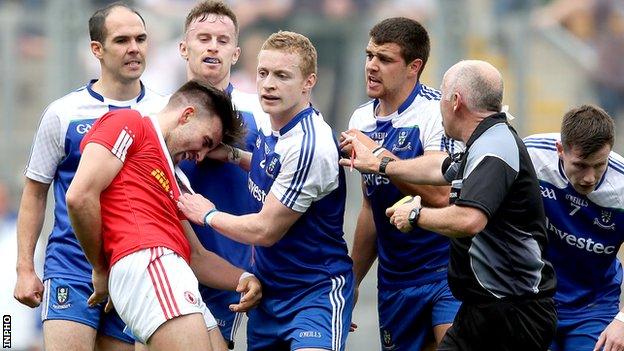 Tyrone manager Mickey Harte has confirmed that Tiernan McCann will appeal against the eight-week play-acting ban that he has been handed.
McCann received the ban after his feigning of injury contributed to Monaghan's Darren Hughes's red card in Saturday's All-Ireland quarter-final.
"The county board is contesting it," said Harte.
Reacting to the suspension, Harte said: "Surprised isn't the word I would use. I would use a stronger word."
McCann has come in for strong criticism for collapsing to the Croke Park turf after Hughes gently ruffled his hair in Saturday's game.
The player is believed to have been suspended under the rule relating to discrediting the GAA.
The ban would rule McCann out of the All-Ireland semi-final against Kerry and the Killyclogher man would also miss a potential All-Ireland decider if Tyrone come through their Kingdom test.
Red Hands boss Mickey Harte told BBC Sport Northern Ireland on Monday that McCann would "wish to have responded differently" to Hughes's action.
However, Harte also defended McCann, describing him as a "fine young man".
Hughes's sending-off in injury-time did not materially affect Saturday's result as the Red Hands were already assured of victory but RTE GAA pundits Colm O'Rourke and Ciaran Whelan have been among those to strongly criticise McCann's actions.
O'Rourke described the late incident as dreadful with Whelan dubbing McCann's behaviour as appalling.
Amid the furore, Tyrone manager Harte did feel compelled to address the issue in his BBC interview.
"On behalf of Tiernan McCann, I'm saying if he had the chance again, he probably would have responded differently. We all accept that," added the Tyrone boss.
"But I don't think he's the first person to ever have over-reacted to anything and I don't think he will be the last.
"There are plenty of precedents there which have happened before and didn't cause the same furore.
"Tiernan McCann is a fine young man and a wonderful footballer."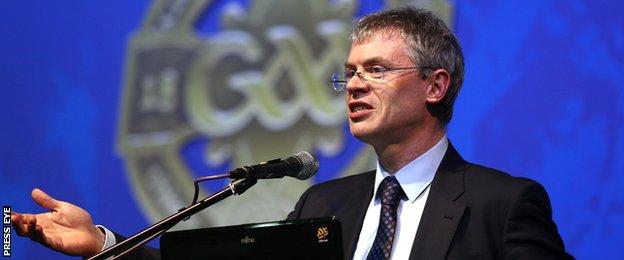 Reacting to news of McCann's proposed ban, former Derry GAA player Joe Brolly described the GAA's penalty as "unlawful".
Writing in the Sunday Independent last weekend, Brolly lambasted the actions of a number of Tyrone's players in the Monaghan game and said the match represented "everything that is bad about modern gaelic football".
However following news of McCann's ban , Brolly, who is a barrister, said that GAA rules only provided a yellow card being handed out for feigning injury.
Writing on Twitter, Brolly said: "The law of statutory interpretation applies to any rule.
"The lawmaker (Congress) has created a specific offence of simulation with a specific penalty (yellow card).
"The central point is that feigning is feigning.
"The penalty is a yellow card. How can any single act of feigning be worse?
"The point of the rule is to create certainty for the player and the GAA. If misconduct can override it the rule is worthless."
Brolly added that the case "is most certainly headed" for the GAA's independent Disputes Resolution Authority.