Mickey Harte concerned Tyrone's media critics may influence refs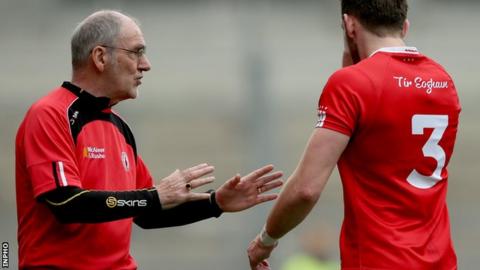 Mickey Harte is concerned that media criticism of his team could influence match officials during the remainder of Tyrone's campaign this summer.
Tiernan McCann is facing the prospect of missing the All-Ireland semi-final against Kerry and a possible final after being handed an eight-week ban.
McCann has received the ban for feigning injury against Monaghan.
"Officials are human. What they hear sometimes subliminally gets into their minds," Harte told BBC Sport.
After the furore surrounding McCann's collapsing to the turf in Saturday's game after having his hair gently ruffled by Monaghan's Darren Hughes, the GAA's disciplinary authorities have reacted by imposed the ban.
McCann, who can appeal, is believed to have been suspended under the rule relating to discrediting the GAA.
Harte has made clear his unhappiness at some of the reporting of the McCann controversy.
RTE GAA pundits Colm O'Rourke and Ciaran Whelan have been among those to strongly criticise McCann's actions which contributed to Hughes's sending off in injury.
O'Rourke described the late incident as dreadful with Whelan dubbing McCann's behaviour as appalling.
"I think it's a bit off the wall for people who maybe if they looked back into their own careers, wouldn't have been most holy of holies, for them to be telling others now how to be playing the game and especially indicating to referees how they might officiate at a game. I think that's over-stepping their brief," added Harte.
"Maybe those people should look into their own hearts and cast their minds back to how and when they played the game and ask themselves if they were as squeaky clean as they propose everybody should be now."