Damian Barton hopes Eoin Bradley will be available to Derry
Last updated on .From the section Gaelic Games
New Derry football manager Damian Barton wants Eoin Bradley in his squad but is not sure whether that will be possible given the Glenullin man's Irish League soccer commitments.
Barton says Bradley is a "fantastic footballer and fantastic talent".
"It's a very demanding environment in terms of fitness levels. People have got to be prepared to make sacrifices," Barton told BBC Sport Northern Ireland.
Barton added that Eoin's brother Paddy, 34, will be considered for selection.
Paddy, who is three years older than Eoin, has not featured for Derry since playing in John Brennan's final year in charge in 2012.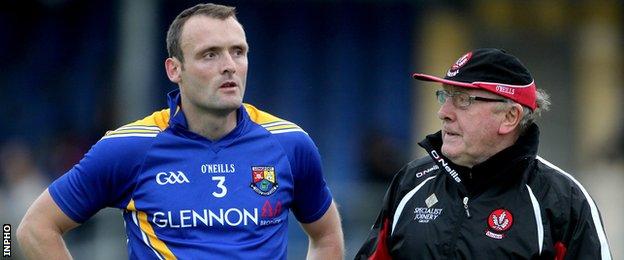 The 2007 All-Star Bradley remained out in the cold during Brian McIver's three years in charge after being injured for the 2013 season.
"Paddy is playing very, very well for his club although I am not sure what his recent injury history is.
"But you have to think that people who are on form, are players that you want to get in."
Referring back to Glenavon striker Eoin's prospects of being part of his squad, Barton added:"It's very difficult to go back-to-back (in terms of playing matches) on consecutive days and I'm sure Eoin would concur with that.
"Everybody has commitments. Other people will have to fall into line. I'm hoping Eoin is available as well."
Barton confirmed that Ballinderry club-man Brian McGuckin will be part of his back-room team while the new manager's county team-mate from the 1993 All-Ireland winning team Tony Scullion will also act in an advisory capacity.
Other members of the 1993 squad may also come on board in the coming weeks.
Barton calls for pride in Derry jersey
Barton makes no attempt to hide his view that some players have shown a lack of pride for the Derry jersey in recent seasons.
"In some respects, they have forgotten what it means to play with that jersey on their back.
"I want to get players out on the pitch who have a pride in playing for the county.
"People whose values can be depended upon. I don't want people to walk away mid-season.
"If people have commitments, whether it's other sporting commitments or being enticed across the Atlantic, I want people to commit to the entire season and respect the commitment that others are giving."
Barton believes that minor stars such as Conor Glass or Jack Doherty are capable of making an early transition to the senior squad.
"My expectation is that the minor and under-21 squad can feed us some players.
"We certainly will be looking for younger players to come in.
"I'm looking for athletes first and perhaps technically gifted players second and then try and augment them together. But the door is open to everyone."