Donegal County Board defends stance over holiday vouchers
Last updated on .From the section Gaelic Games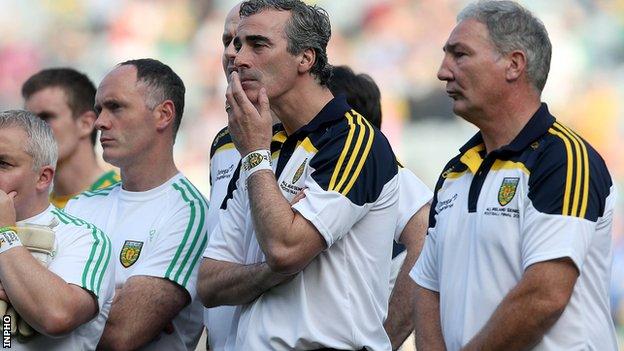 The Donegal County Board has defended its stance over team holidays as outlined by the GAA authorities.
The 2012 All-Ireland champions issued a statement in response to an article by former manager Jim McGuinness.
McGuinness said he and other Donegal personnel were entitled to a holiday voucher after being unable to go on an end of season holiday to Dubai.
"Donegal correctly followed all guidelines as issued by Croke Park regarding holidays," said the Board.
McGuinness outlined in The Irish Times how he was one of seven people involved with the All-Ireland finalists in 2014 who could not travel with the team, for various reasons.
The Glenties man said that in some circumstances those involved could not travel because they used up their annual leave to attend training sessions.
He said that due to "an implication with revenue" the "official word from the Donegal county board was that if people couldn't travel on the team holiday, then that was it"."
However, McGuinness is adamant that this is not the case.
"The information I obtained from Croke Park is that if you couldn't attend a team holiday, then you are entitled to a voucher for whatever the holiday was worth," he said.
"We are satisfied that the holiday was organised fully in accordance with those guidelines as has been confirmed by Croke Park," the Donegal County Board responded.
Donegal won the Ulster Championship but were beaten in the All-Ireland final by Kerry.