Slaughtneil community rooted in the GAA as success grows
By Mark Sidebottom
BBC Sport
Last updated on .From the section Gaelic Games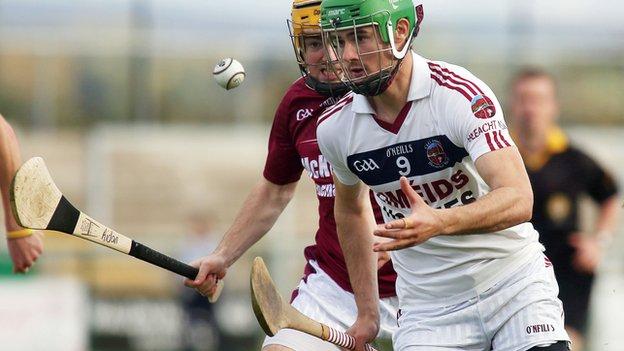 AIB Ulster Club Hurling Final: Slaughtneil v Cushendall
Venue:
Athletic Grounds, Armagh
Date:
Sunday, 25 October
Throw-in:
14:30 GMT
Coverage:
Live on BBC Radio Ulster 1341 Medium Wave and online
Carntogher mountain is both a saddle and a horseshoe.
A shoulder of stone which provides a buffer from the elements and a blanket for the community below. At its peak the 'Emigrant's Cairn" keeps watch over an unparalleled vista of the province of Ulster.
At its fringes it unfurls into a patchwork of fields, fat fingers of grass forged on time's anvil; a landscape so gnarled and knuckled it might be an old hurler's hand.
At its foot the Altkeeran river flows bright and pristine as the new metal splicing banding the face of a well worn caman.
A ball-wall makes a hemisphere and a hub of the club.
Here, north and south , football and hurling reside in harmony.
The thump-thud of leather on ash and concrete
The thump-thud of leather on ash and concrete. The clickety clack of studs on stones. The fuzz of chatter and craic.
This is Slaughtneil's soundtrack, a soft moss of noise which can be heard winter, spring , summer and fall.
It is as permanent and intoxicating as the abundant silver birch trees which populate nearby Drumlamph wood.
Not quite a parish, but with a profound sense of place, almost uniquely this scattering of dwellings which forms a meandering necklace of homes abutting Swatragh to the north and Maghera to the west, has no church or public house.
Tee-totallers, painters, plumbers, poets, plasterers, students, teachers, Slaughtneil Robert Emmetts are Derry football champions. Slaughtneil Robert Emmets are Derry hurling champions. Slaughtneil Robert Emmetts are Derry camogie champions.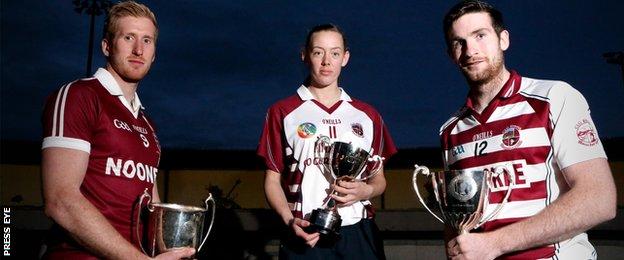 As a people they are pickled in the GAA, they have become its very preserve. Two arms of the one body, two codes, one community.
Around here it doesn't really matter where you worship as long as you're "spreading the gospel".
This Sunday morning, they will sunder out of geographic convenience some to take in mass in Maghera the rest to pray in Swatragh.
They will then converge as one on the Athletic Grounds in Armagh. Brothers, sisters, boyfriends, girlfriends, mums, dads, grandparents, grandchildren, husbands, wives, friends, family.
Two teams, two provincial finals, one day as the hurlers face Cushendall with Loughgiel the opposition for the camogs.
There is no greater contagion than winning and right now there is no greater GAA club in Ireland than Slaughtneil.
Slaughtneil sweep all senior codes in Derry
The Robert Emmets have swept all before them in all codes in Derry.
On Sunday week they will put their provincial football title on the line in an Ulster quarter-final against Scotstown of Monaghan.
By then they might very well be provincial hurling and camogie champions.
No Derry club has ever won an Ulster hurling title. The club's 13 dual players are facing into a 13th championship outing in 11 weeks.
The men and women of Slaughtneil have sown themselves into the cultural fabric of the GAA, they are the association's foot soldiers and brand leaders, they just get on with it.
The privilege is in competing, the bonus is in winning.
County and provincial officials would do well to set up a temporary base camp in the Carntogher foothills for a week or two, tap into the secrets of the silver birch wood, bathe in the shimmering Altkeeran river, drink in the rarefied atmosphere and bottle the blueprint.