Cargin boss Brennan claims player bitten in Cross clash
Last updated on .From the section Gaelic Games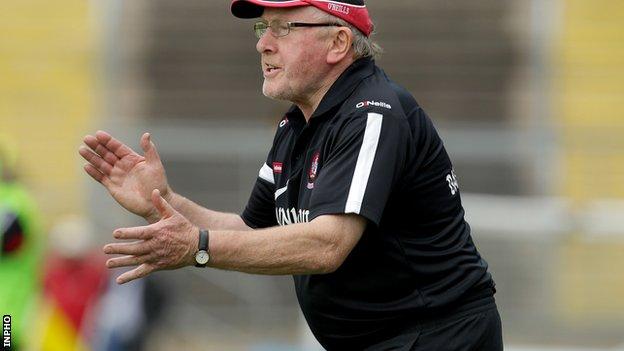 Cargin manager John Brennan has claimed that one of his players was bitten by a Crossmaglen opponent in the Ulster club quarter-final at the Athletic Grounds.
"Michael McCann was reportedly bitten," said the former Derry boss.
"I didn't see it but some of our players were very aggrieved about it and Michael has a mark on his neck."
Crossmaglen joint-managers Oisin McConville and John McEntee denied there had been any biting in a game which the Armagh side won 2-15 to 0-13.
Brennan alleged that the incident occurred during a melee after 36 minutes.
"It sounds ridiculous to me," McEntee told the Irish News.
"I would have thought that John would have been magnanimous in defeat and just take it on the chin, there were a lot of incidents we could all talk about.
"It was a very clean game given the competitiveness of it."