Mickey Harte comments on Tyrone withdrawals anger Shay McGuigan
Last updated on .From the section Gaelic Games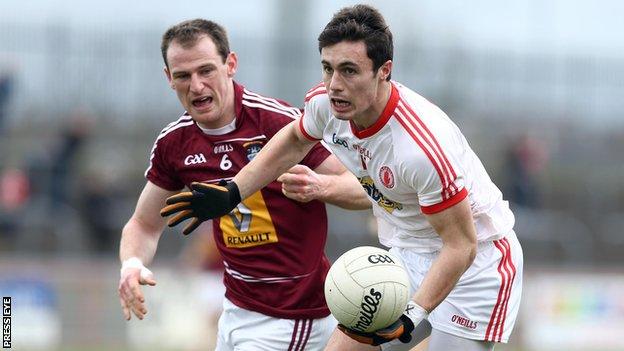 Former Tyrone panellist Shay McGuigan has responded angrily to comments from Mickey Harte about players who left the Red Hand football squad last summer.
McGuigan was among five players who quit the Tyrone squad shortly before this year's championship after feeling they were not getting enough game time.
Last week, manager Harte said that those players had been "a bit of a drain on the energy of the group".
McGuigan tweeted on Monday that Harte's comments had made his "blood boil".
The Ardboe man, who was drafted into the Tyrone squad in early 2014, added that Harte was "great at destroying a player's confidence".
"It has annoyed me since and that's why I am posting this now because I am not going to sit about and say nothing," added McGuigan, who insisted he had given his all at Tyrone training every week.
"Even when I didn't get on, I never sat with a face on me nor did I huff and any Tyrone player could tell you that.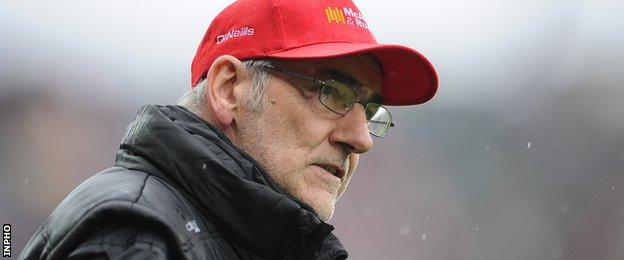 "Mickey Harte you are a great man and what you have done for Tyrone GAA is unbelievable.
"But do you know what else you're great at? Destroying a player's confidence!"
McGuigan, brother of former All-Star forward Brian McGuigan and another ex-Red Hand man Tommy, opted out of the Tyrone panel after the team's relegation from Division 1 of the League, along with Paddy McNeice, Dwayne Quinn, Emmet McKenna and PJ Lavery.
Harte drafted in a number of replacements and the Red Hands regrouped from an early Ulster Championship exit against Donegal to go as far as the All-Ireland semi-finals where they suffered a narrow and controversial defeat by Kerry.
Players need to have patience - Harte
Speaking last week, Harte spoke of his regard for players who "bide their time and have the patience.
"They are probably the people who will serve you best in the long run anyway.
"The people who feel they're not getting as much game time as they want, they tend to be a bit of a drain on the energy of the group."
In his Twitter comments on Monday, McGuigan identified himself as one of the players Harte was referring to.
"Yes I was one of them. He (Harte) went on to say that they were a drain on the energy within the panel.
"He also stated that men should just hang around and when their chances comes, then they should take it.
"I hung on and hung on fully fit and injury free all year.
"Did all the pre-season training from November and and through the cold winter nights.
"To sit there seeing the same men, week in and week out get their chance and see a player come back into the squad one week before the last league game of 2015 and get on before me just made my decision a whole lot easier."
McGuigan is thought to have been referring to Joe McMahon who was excused from duty for the majority of the League as he attempted to regain fitness following injury before returning to the squad.