All-Ireland Football Championship: Antrim face return to B competition
Last updated on .From the section Gaelic Games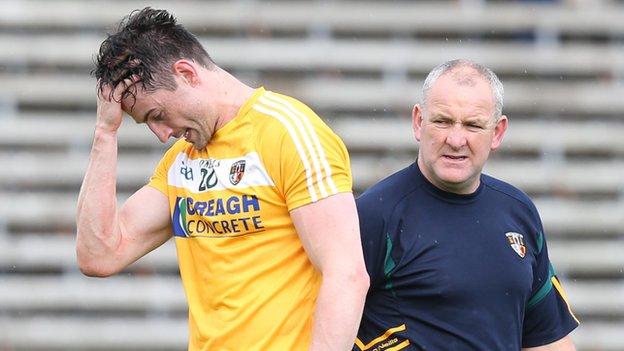 Antrim face the prospect of not being allowed to play in the All-Ireland SFC qualifiers in 2017 if they miss out on Division 4 promotion in the Football League over the next two years.
Proposals at next month's GAA Congress will include a call to reintroduce an All-Ireland B Football Championship.
Division 4 teams after next year's league will play in the B competition.
Reaching their provincial finals would see the Division 4 teams avoiding demotion to the new B Championship.
The GAA's Central Council decided on Saturday to recommend the proposal to the organisation's Annual Congress in Carlow where it will require a two-thirds majority to be passed.
Antrim were the last winners of the previous B Championship which ran as the Tommy Murphy Cup between 2004 and 2008.
However, it was a lightly-regarded competition and it remains whether a reconstituted B competition would give the football championship the boost that many feel that it requires.
More radical proposals which include a group/round robin format for the All-Ireland series after the provincial championships are played within a shorter timeframe, appear to have been shelved for the moment, at least.
The new B competition would be played on a straight knock-out basis with the winner guaranteed a spot in the following year's qualifiers regardless of their League standing.
If a Division 4 team did make their provincial final, they would be replaced in the B Championship by the lowest placed team in Division 3 that did not make a provincial decider, other than the two relegated teams.
If the proposal is accepted, the All-Ireland qualifiers will be reduced from four rounds to three.
Next month's Congress will also debate a proposal to replace the current All-Ireland Under-21 Football Championship with an under-20 grade in the hope that it will help to reduce player burnout.
The Central Council has also watered down a proposal that all championship replays should be scrapped with a recommendation that they should take place in the cases of provincial and All-Ireland finals.
Also at Saturday's meeting, the GAA said that the affiliation of a team from the British Army's Irish Guards couldn't be rescinded, despite objection to their presence in London competitions from the Granuaile Hurling Club.