GAA boss Paraic Duffy criticises Armagh and Dublin 'code of silence'
Last updated on .From the section Gaelic Games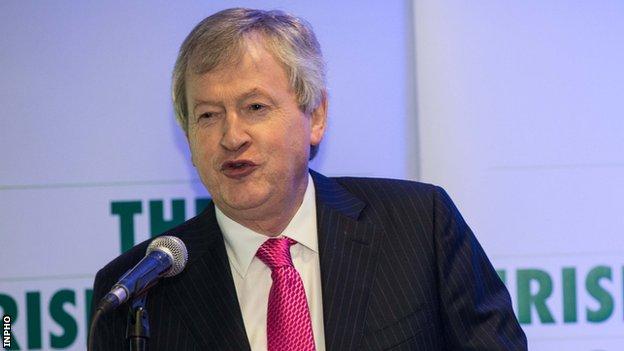 GAA director general Paraic Duffy has criticised the Armagh and Dublin football managements over their silence following a challenge game brawl which led to a player being hospitalised.
Dublin's Davy Byrne was the injured player but attempts to investigate last July's match were unsuccessful.
Duffy has referred to the matter in his annual report.
"Nobody could provide any information that would have allowed disciplinary action to be taken," he said.
"The efforts of CCCC (Central Competitions Control Committee) to investigate the matter followed an all too depressing pattern.
"Even though the name of the player alleged to have been responsible for Davy Byrne's injury was in general circulation, no assistance was forthcoming from the counties in bringing the player to account."
Duffy said that the affair showed GAA, like many professional sports, was in danger of losing "much of its integrity through a loss of genuine sporting values".
"Given the unwillingness of either county to co-operate in identifying any of the guilty parties, the only option available to the CCCC was the proposal of a fine, a penalty that was subsequently imposed at a hearing."