Fermanagh appeal 5,000 Euro fine after row against Armagh
Last updated on .From the section Gaelic Games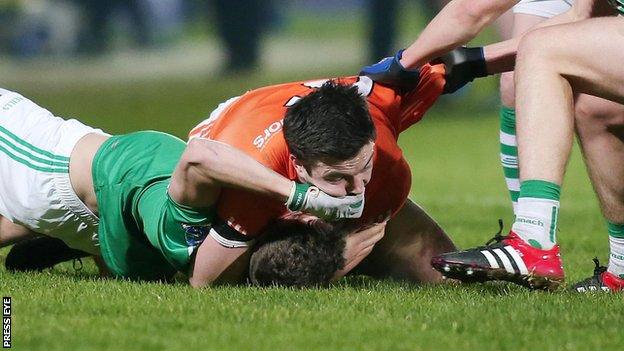 Fermanagh have confirmed they are appealing the 5,000 Euro fine given out for the half-time disturbances in their Football League game against Armagh.
Armagh were also hit with the same fine for their part in the brawl in the Athletic Grounds on 27 February but have not said if they intend to appeal.
Erne manager Pete McGrath called the fine "a bit drastic" and "draconian".
Fermanagh did not appeal the one-match ban given to Sean Quigley, who sat out Sunday's league win over Laois.
In explaining the county's decision to appeal the fine handed out by the Central Competitions Control Committee, McGrath said: "Fermanagh is a small county and we're struggling to make ends meet".
"To just lash a 5000 Euro fine on a county without examining... but we have a right of appeal and that is going to appeal so hopefully they'll take a second look at that."
Up to 20 players were involved in a flare-up near the sideline late in the first half and tempers were still running high as the teams headed into the tunnel at half time.
"There was pushing and shoving and verbals, but I couldn't honestly see any punching," McGrath said.
"It was so congested that you couldn't have got a punch in even if you wanted to, but there was nobody looking to.
"It shouldn't happen, but it did. But maybe the 5000 Euro fine is a bit drastic and a bit draconian."
Meanwhile, Donegal and Kerry are expected to receive suspensions and fines in the wake of their ugly brawl in Tralee on Sunday.