Kerry and Donegal fines upheld by Central Hearings Committee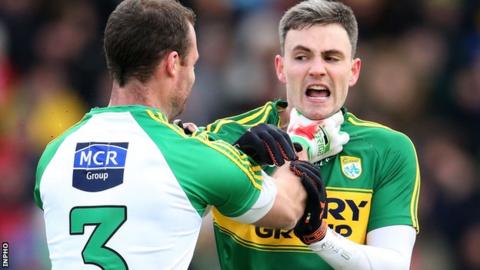 The Central Hearings Committee has upheld fines of €5,000 for Kerry and Donegal following the ugly scenes which marred their Football League encounter in Tralee earlier this month.
Kerry won a fiery Division One game by five points, with Donegal's Leo McLoone and Alan Fitzgerald of Kerry sent off.
Two black cards and a number of yellows were also dished out by referee Eddie Kinsella after a number of flashpoints.
Donegal defender Neil McGee was handed a one-game ban after another incident.
The Central Competitions Controls Committee (CCCC) imposed the suspension on McGee for his involvement in the incident which led to the dismissal of Kerry forward Fitzgerald.
TV replays showed that the Donegal full-back pulled the hand of Fitzgerald in an aggressive manner.
Managers Eamonn Fitzmaurice and Rory Gallagher were summoned to Kinsella's dressing room at half-time in an effort to reduce tensions and the GAA's Central Hearings Committee (CHC) has upheld fines for both counties.
The Central Competitions Controls Committee alleged a breach of rule 7.2 (d) (3), that is to say "Disruptive Conduct at Games by Players (not causing the Premature Termination of a Game)."
Both counties sought a hearing after originally being hit with €7,500 fines respectively, but the CHC found that the alleged infraction had been proven and only slightly reduced the fines for the respective county boards, who can challenge the decision by appealing it to the Central Appeals Committee CAC).