Peter Harte back at Tyrone training but remains doubt for Division Two League final
Last updated on .From the section Gaelic Games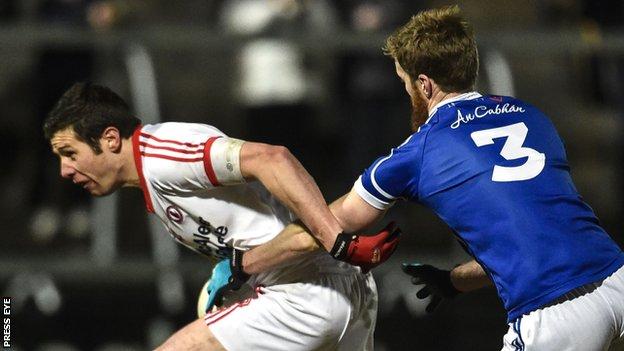 Tyrone captain Sean Cavanagh is hoping that Peter Harte will be fit to line out in Sunday week's Football League Division Two final against Cavan.
The influential Harte sustained a shoulder injury early in Tyrone's game against Armagh last month.
Harte was forced to miss the game against Fermanagh but the Errigal Ciaran man has returned to training.
"You are just hoping and praying he will heal up before Sunday week," said Cavanagh on Thursday.
Tyrone are certain to be without goalkeeper Niall Morgan who recently broke a bone in a club game for Edendork.
Morgan's absence means Mickey O'Neill, who has been sharing the number one jersey with Morgan on a rotational basis during the current league, looks certain to start against the Breffnimen at Croke Park on 24 April.
Under-21 goalkeeper Sean Fox has been called into the senior squad as back-up for Mickey O'Neill for the Division Two final against Cavan.
Improving Cavan an 'ideal test' for Tyrone
Tyrone skipper Cavanagh believes the encounter with Terry Hyland's in-form side will be the "ideal" test for the Red Hands ahead of their Ulster Championship opener against Derry at Celtic Park on 22 May.
"We got the results that we needed in certain games (during the league) but we wouldn't have been overly impressed with our performances in some of the games," Cavanagh told BBC Sport Northern Ireland.
"In their game against Armagh, they blew them out of the water by 15 or 20 points. Cavan are going to put us to the pin of our collars.
"It's the best preparation that we probably want and probably need before we get to Celtic Park."
But while Cavanagh is expecting a tough test against the Breffnimen, the 33-year-old admits that the Red Hands are currently able to call on a "serious talent pool" which has been boosted by the arrival of several talented under-21 players over the last two seasons.
"If we can channel that in the right road, we can probably give a game to most teams in Ireland."
Colm Cavanagh 'hugely important' for Tyrone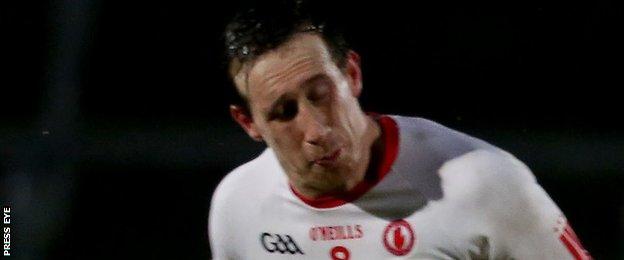 Cavanagh's brother Colm has become an increasingly important member of the Tyrone team after being the butt of some unfair criticism during the earlier stages of the Red Hand career.
The elder Cavanagh says Colm is now "a hugely important figure for us in terms of the style of football we are playing".
"He is a serious presence and tackler within our defensive unit.
"Most midfielders in Ireland probably don't like seeing that kind of presence coming their way."