International Rules matches scrapped for 2016
Last updated on .From the section Gaelic Games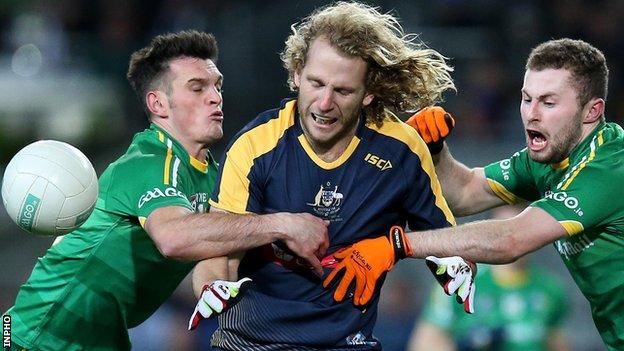 The International Rules Series between Ireland and Australia will not take place this year, the GAA has announced.
However, two matches - played under 'compromise rules' based on Gaelic football and Aussie Rules - are to be staged in Australia in 2017.
For the last two years there have been one-off games between the nations, but the two-match format is being revived.
Ireland are the holders of the Cormac McAnallen Cup, Joe Kernan's team having won 56-52 in Dublin in November.
"It was not possible to organise a two-game series in Australia this year and we have decided to take a long-term view of the series and press pause for 2016," said GAA president Aogán Ó Fearghail.
"The success of the last two series has been based on the ability of both teams to attract the finest talent, making for close, competitive and entertaining games."