BBC Sport - Pete McGrath: Fermanagh boss says Ernemen can win county's first Ulster title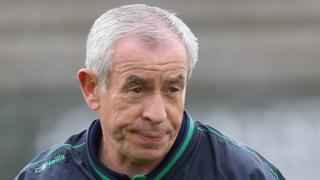 Fermanagh can win Ulster title - McGrath
Pete McGrath says his Fermanagh team are good enough to win the county's first Ulster senior football title.
"We are one of the teams in Ulster that I think, should have, and have the right to have legitimate aspiration towards winning an Ulster title," said the Erne County boss.
"I firmly believe Fermanagh have that capability within the squad currently."
Fermanagh will face Antrim in the Ulster SFC preliminary round game at Brewster Park on 15 May.