Ulster SFC: Derry's Gerard O'Kane part of dying breed as he prepares for Tyrone tie
Last updated on .From the section Gaelic Games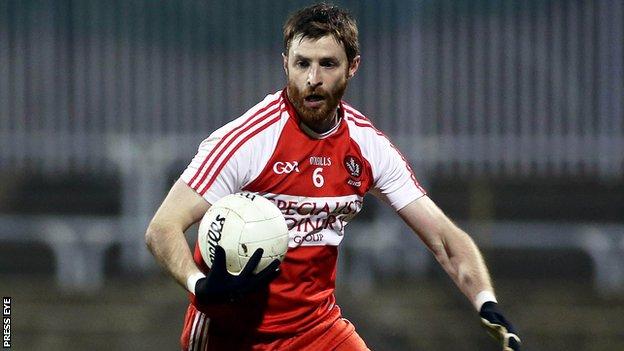 Ulster Championship: Derry v Tyrone
Date:
Sunday, 22 May
Venue:
Celtic Park
Throw-in:
14:00 BST
Coverage:
Live on BBC2 NI; Live text and radio on BBC Sport website & commentary on Radio Ulster medium wave
Gerard O'Kane thinks back over a 13-year Derry senior career and can't help but feel that he's part of a dying breed.
"If I was starting my county career now the way it is, I definitely wouldn't be playing 13 seasons," says the 31-year-old.
"When I started, you had to be very committed but it just wasn't as intense as it is now.
"I don't think an 18 or 19-year-old starting now (with all the training demands) could keep up what the likes of me and Mark Lynch have kept up for the last 13 years. It just wouldn't be possible."
And while there has been much disquiet in the Oak Leaf county's GAA fraternity about players not making themselves available to Damian Barton's squad this summer, O'Kane is keen to provide some context.
"Club football is obviously very strong in Derry and clubs look after their own (players) as well.
"If you're asked to be out with your county three, four nights a week, asked to go back to your club one night a week, playing for the county one day at the weekend and maybe playing for the club as well, some boys just don't want that."
Understandably perhaps.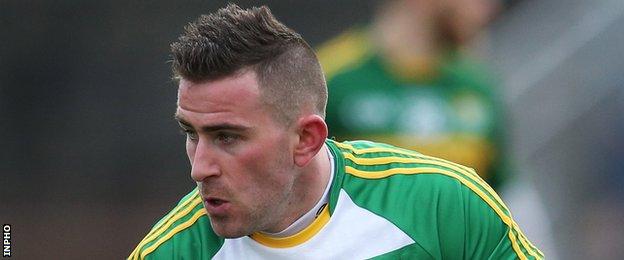 O'Kane wonders whether the likes of Donegal's Paddy McBrearty will be playing county football into their thirties.
"He started playing for Donegal seniors when he was still a minor, five or six years ago.
"He's just an example of a guy who came into county football when it was reaching a real crescendo (in terms of the effort required) and that has continued to rise ever since."
O'Kane's minor days saw him captaining Derry to the All-Ireland title at Croke Park in 2002.
After that early success, it would have seemed inconceivable that such a long senior county career would have drawn drawn a blank in championship terms.
Derry seeking first Ulster title since 1998
But Derry head into Sunday's Ulster quarter-final against Tyrone still searching for the first Ulster senior triumph since Joe Brolly's late goal pick-pocketed Donegal in the 1998 provincial decider.
"If someone told me when I was 10 or 11 years old, that I was going to have a 13-year Derry career, I would certainly have expected to have earned some (championship) silverware.
"That's not just from a personal point of view. You would have expected the team to have done well at some stage in that period.
"But Derry haven't got any silverware during that time. That's probably one of the reasons I'm still about."
O'Kane did help Derry win the National League title in 2008 and also picked up a Division Two winners medal three years ago.
"A lot of people don't have those honours. I got to play in Croke Park 15 odd times. If you asked a lot of people, they'd be happy with that.
But this list of quality players rhymed off by the Glenullin man makes it clear how much the Oak Leafers have seriously under-achieved over the past decade or more.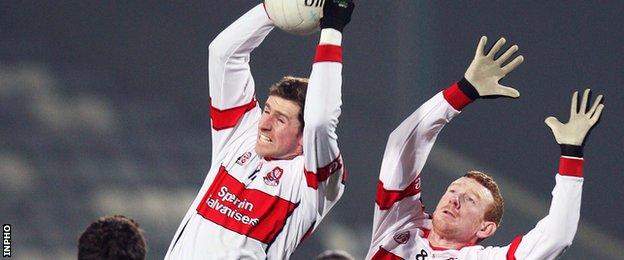 "When I first came into senior football, Derry had the core of a really good side. You had Enda Muldoon, Fergal (Doherty), Paddy Bradley, Niall McCusker, Kevin McCloy, Kevin McGuckin, Sean Marty (Lockhart) all at their peak at the one time.
"We let one or two championships slip away. I played in Ulster semi-finals five years in a row and we got beaten by five different teams.
"If someone had told you that (beforehand), you wouldn't have believed it. Especially with the team we had."
Perhaps referring to the 2008 semi-final defeat by unheralded Fermanagh, O'Kane admits that complacency was among that factors that hindered the Oak Leafers during those years.
Two years earlier, Derry had shocked then All-Ireland champions Tyrone at Healy Park after holding them scoreless in the first half, only to be comfortably beaten by Donegal a few weeks later in the provincial semi-final.
"Bad luck occurred in some of the Ulster semi-finals as well. But at the end of the day, you make your own luck too."
Looking ahead to Sunday's game at Celtic Park, O'Kane is not making any bold predictions but he wouldn't have stayed on for this year's campaign if he didn't believe that a surprise can happen this weekend.
For him, Derry versus Tyrone will always be the "big one" as he recalls his early GAA days of travelling with his father to watch titanic tussles between the sides in the 1990s.
"If someone had told me in those days, that in 10 or 15 years, I would be playing in Derry v Tyrone games, I'd have taken their hand off."