Damian McErlain appointed as Derry football manager on a three-year term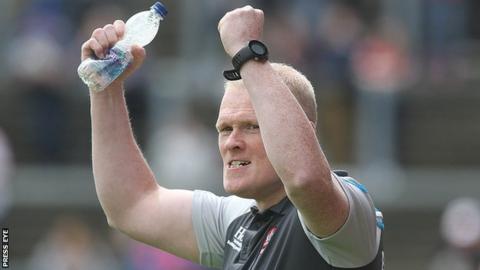 Derry's minor football manager Damian McErlain has been appointed the county's senior football boss on a three-year term.
Magherafelt club-man McErlain has guided the Derry minors to this year's All-Ireland final.
He takes over from Damian Barton whose two-year term was not extended after the team's championship exit against Mayo in early July.
McErlain said he was "honoured" to be handed the role.
"We are massively looking forward to working with the county's best players and the other stakeholders involved in creating the environment to fulfil the potential that's within Derry football," said McErlain.
"We know the talent that exists within the county and we've developed three strong minor teams to further bolster that.
"We now need to ensure that we have the right environment for the players to develop further."
McErlain will begin work in the senior job after the Derry minors' All-Ireland decider against Kerry at Croke Park on 17 September.
The new manager's coaching team will include Killian Conlan, Gavin McGeehan and former Derry goalkeeper Barry Gillis.
A Derry board statement said that McErlain's coaching team had "demonstrated their ability and commitment to creating an environment which helps players achieve the potential".