Ulster SFC draw: Holders Tyrone to face Monaghan in their Ulster opener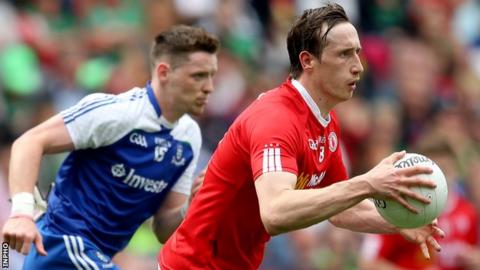 Tyrone will open the defence of their Ulster Football title with a tough looking quarter-final against 2015 champions Monaghan.
Thursday's draw pitted Donegal and Cavan in the preliminary round.
The winners of Tyrone v Monaghan will face either Fermanagh or Armagh in the opening Ulster semi-final.
Down were given a home draw against Antrim while Derry await the winners of the preliminary-round game in the remaining quarter-final.
As is tradition, the Ulster Football series was a totally open draw with provincial council president Michael Hasson picking the balls out of the bowl at the draw in Dublin on Thursday night.
Tyrone aim for Ulster three-in-a-row
Tyrone will be aiming for a third successive Ulster title in 2018 after beating Down in this year's final.
The Red Hands were drawn first out of the bowl for their game against Monaghan so that game looks likely to take place in Healy Park.
Their last championship meeting saw Tyrone defeat Monaghan in the 2015 All-Ireland quarter-finals a couple of weeks after the Farney County had won the Ulster title.
The recently-retired Sean Cavanagh believes the winners of Tyrone's game with Monaghan will be favourites to land the Ulster title.
"It's a real cracker to start," Cavanagh told RTE.
"It's an interesting one. We haven't played for a number of years at home in Omagh. We tend to play better away from home if I'm honest.
"It's Monaghan and I suspect Tyrone and Monaghan might be the two strongest teams in the Ulster Championship next year."
Monaghan forward Conor McManus said that Ulster football "doesn't get any tougher than meeting Tyrone".
"But if you are going to have a crack at winning the Ulster Championship, you have got to beat Tyrone somewhere along the line."
The 2018 Ulster series will see four managerial changes from this year with Declan Bonner (Donegal), Rory Gallagher (Fermanagh), Damian McErlain (Derry) and Lenny Harbinson (Antrim) having been appointed following this year's championship.
Bonner will be back for his second stint with Donegal when they take on Mattie McGleenan's Cavan in the preliminary round while his predecessor Rory Gallagher will hope to guide Fermanagh to a quarter-final victory over Kieran McGeeney's Armagh.
A Donegal victory will set up a quarter-final derby against McErlain's Derry while Harbinson will hope that his Saffron charges can upset this year's beaten provincial finalists Down at Newry in the bottom half of the draw.
Ulster SFC draw
Preliminary round
Donegal v Cavan
Quarter-Finals
Fermanagh v Armagh
Tyrone v Monaghan
Down v Antrim
Derry v Donegal or Cavan
Semi-Finals
Fermanagh or Armagh v Tyrone or Monaghan
Down or Antrim v Derry, Donegal or Cavan
(Dates and venues yet to be confirmed)