Galway and Waterford dominate Hurling All-Stars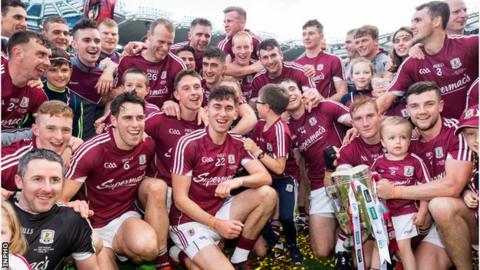 All-Ireland finalists Galway and Waterford dominate the list of players who have made the 2017 Hurling All-Stars team.
Galway, who won the title for the first time since 1988, have seven selected while there are five Waterford players on the list.
Munster champions Cork have wing-back Mark Coleman and forward Mark Coleman in the final 15.
Tipperary defender Paudie Maher is awarded his fifth All-Star award.
PwC All-Star Hurling Team 2017
1 Stephen O'Keeffe (Waterford)
2 Padraic Mannion (Galway), 3 Daithí Burke (Galway), 4 Noel Connors (Waterford)
5 Padraic Maher (Tipperary), 6 Gearóid McInerney (Galway), 7 Mark Coleman (Cork)
8 Jamie Barron (Waterford); 9 David Burke (Galway)
10 Kevin Moran (Waterford), 11 Joe Canning (Galway), 12 Michael Walsh (Waterford)
13 Conor Whelan (Galway); 14 Conor Cooney (Galway); 15 Patrick Horgan (Cork)