Paraic Duffy calls for compulsory anti-doping courses for inter-county players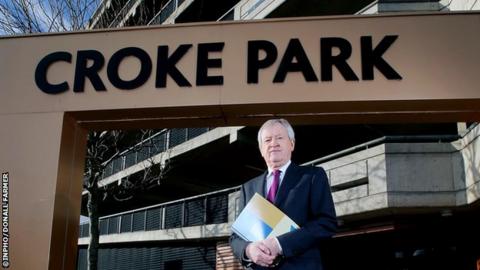 GAA Director General Paraic Duffy says players should not be allowed to play at inter-county level until undergoing an anti-doping education programme.
Duffy said anti-doping seminars were delivered to 34 county panels in 2017.
"You need to have some sort of system where before a player joins a county panel he has to have done an anti-doping education programme," he said.
Duffy was speaking as he released his 11th and final annual report before he steps down from the post.
"All our players are subject to the Irish anti-doping rules and the GAA is fully committed to the maintenance of hurling and football as drug-free sports."
Isolated doping breaches in GAA
There have been isolated cases of anti-doping breaches in recent years which included the revelation last May that Kerry player Brendan O'Sullivan had served an 11-week ban after testing positive for a banned stimulant.
The director-general added that GAA players have been blood-tested and that the organisation adheres to World Anti-Doping Agency rules.
"After an anti-doping finding against a player in 2015, the GAA developed a revised anti-doping education strategy," added Duffy, whose term will end on 31 March.
"In November of that year, three GAA and three GPA representatives were trained by Sport Ireland as anti-doping tutors to assist in its implementation.
"This was the first time that Sport Ireland had offered national governing bodies the opportunity to train anti-doping tutors.
"In October 2016, a further nine GAA representatives were trained by Sport Ireland and in 2017 seminars were delivered to 34 senior inter-county panels. By early 2018 each county will have at least one trained anti-doping tutor."
Single-tier football championship 'unsustainable'
Duffy's annual report also reiterated his long-held view that the current single-tier football championship is "unsustainable".
"We must find a way to give all counties the possibility of success in a football championship.
"I believe we have to have a tiered championship, we've five in hurling. I'm not saying we'll have five in football. We need to do it."
This season will see the football championship adopt so-called 'Super 8s' which will replace the quarter-finals with a round-robin series for a three-year trial period.
Duffy said the new system was not the answer to the weaker counties having a chance at winning silverware and said that an alternative structure needs to be put in place after the 'Super 8s' trial period.
The director general's report also included a novel suggestion as a means of curbing the release of so-called dummy teams during the week of big games.
The director general said that consideration should be given to counting changes to teams after the deadline as substitutes which would reduce managers' scope for making changes during games.
At present, teams can make six substitutions.