Hurling League: McManus says Antrim can earn wins needed to stay in Division One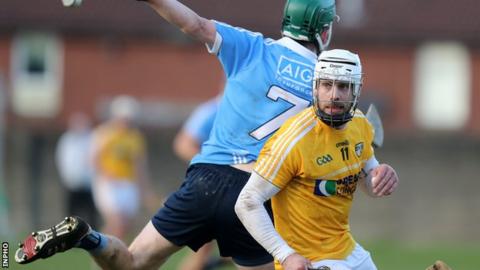 Neil McManus is convinced Antrim hurlers can earn the two wins they will need from their remaining three games in Division One B to avoid the drop.
McManus, 29, says morale remains high in the Saffron camp after they gave All-Ireland champions Galway a scare before losing by a point to Dublin.
The Saffron face Laois away on Saturday before their home match with Limerick and the concluding away game in Offaly.
"We need two wins and we are very capable of doing that," said McManus.
"It's all about maintaining the level of performance that we have produced in our first two games.
"I don't know (precisely) where the points will turn up but I believe they will turn up.
"We are very happy how we are progressing as a team and we look forward to the Laois game on Saturday night with a huge amount of enthusiasm."
McManus believes Saffrons can maintain progress
McManus has been part of previous Antrim teams which started Division One campaigns in promising fashion only for performances to deteriorate in alarming fashion as the season went on.
However, the Cushendall man is confident that there will not be a repeat of that over the coming weeks.
"We led for most of the Galway game and it was a great occasion to be involved in, with it being almost a welcome home game for them after winning the All-Ireland and a big crowd there.
"We were hugely positive about our performance as the handicap betting beforehand was 23 points and we lost by three in the end.
"Against Dublin, we were beaten by a point six minutes into injury-time and we certainly feel we should have got something out of that game. I may have hit 16 points but probably feel I should have had 20 and there were particular chances to fashion the winning of that game early in the second half.
"But I think about where Antrim have come from. It has been three years since we have been competing at this level.
"To be producing that level of performance against teams like Dublin and Galway, who ultimately have ambitions to win the All-Ireland this year, augurs well."
Antrim in second-tier Joe McDonagh Cup
Three closing wins will secure the Saffrons a place in the league quarter-finals but McManus says the side's target is retaining their Division One B status after they finally earned promotion last year after two campaigns in Division Two.
"In terms of the championship, we are in the (second-tier) Joe McDonagh Cup this year and we aim to be at the business end of that.
"The league is about developing some players for that competition and hopefully maintaining our status in Division One B."
McManus says the input of Tipperary's former All-Ireland winning boss Liam Sheedy is aiding the Saffrons management this year.
"Liam's work is mainly with the management team rather than the players in an advisory capacity. He's a man with super experience to have coached All-Ireland winning teams at minor, Under-21 and senior level.
"Our management are using him well to lean on for different keynotes."
McManus doubts he will play again at Casement
After Saturday's game in Portlaoise, the Saffrons will face Limerick in Cushendall on 25 February, with the county's return to Casement Park showing no signs of coming any time soon.
McManus admits that he doubts that he will play again at the iconic west Belfast venue which has remained closed since 2013 amid a stalled re-development project.
"It is probably unlikely to be honest and it has been delay after delay. We were expecting it to be ready for our league campaign in early 2016.
"A huge of work is being done (to try and get the project back up and running) and I think it will happen.
"The men who are pushing it at the minute are the right people but it might just come a wee bit late for me."
The sadness that McManus feels at the continuing Casement Park hiatus is obvious.
"It was a place I'd become very familiar with and the people in and around the area.
"My Friday night routine would have been to finish work, go to the pool in Andersonstown and then nip over to Casement and Jim the groundsman would let me in to practise frees for half and hour before I would go back down to Cushendall.
"Casement is gone and has been for five years and it's really disappointing for me."