GAA bans betting sponsorship from the sport
Last updated on .From the section Gaelic Games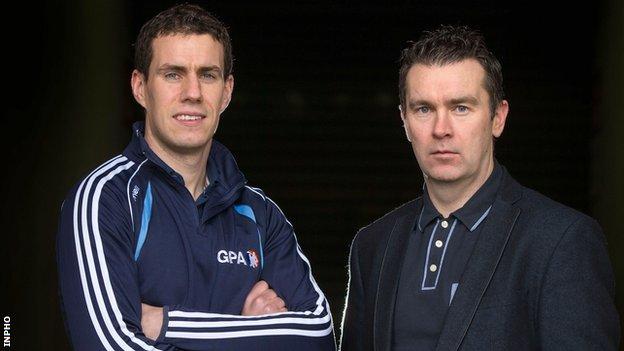 The GAA's annual congress has voted to ban sponsorship from betting companies in the sport.
A motion was backed by 93% of the 270 delegates amid concerns after a number of high-profile GAA players admitted they had battled a gambling addiction.
These included former Armagh Allstar footballer Oisin McConville.
Connacht GAA official Mick Rock claimed sport was being "besieged by gambling", adding that the motion would "enhance the moral standing of the GAA".
Gaelic Players Association spokesman Alan Kerins recently revealed that of 77 players who requested counselling services through the players body, 50% of them were for gambling-related issues.
No county teams in football or hurling have a bookmaker as a major sponsor although Boylesports are among 20 official partners of Armagh GAA.
Saturday afternoon's Congress session at Croke Park will see Dublin's John Horan taking over from Cavan man Aogan O Fearghail as GAA president.
GAA director general Paraic Duffy will also stand down from his position after a 10-year stint on 31 March.
In his final address on to Congress on Friday night, the Monaghan man urged counties to take more initiative to sort out the thorny issue of ensuring sufficient club fixture dates.