Joe McDonagh Cup: Antrim hurlers to face Meath in championship opener on 5 May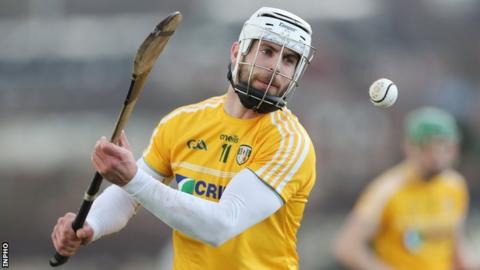 Antrim hurlers' championship campaign will begin with their Joe McDonagh Cup opener against Meath in Navan on 5 May.
The Saffrons will host Carlow at Corrigan Park on 12 May before facing Laois in Cushendall a week later.
Laois defeated Antrim on 18 March to send Antrim back to Division Two of the Hurling League.
Further group games follow against Westmeath, Kerry in June before the top two teams go forward to the final at Croke Park on 1 July.
The Westmeath game will take place in Mullingar on 2 June before a home contest in Dunloy against the Kingdom a week later.
The Joe McDonagh Cup is the new second-tier competition with Derry, Down and Armagh involved in the now third-tier Christy Ring Cup.
JOE MCDONAGH CUP FIXTURES
Round One - 5 May (15:00 BST)
Meath
v
Antrim - Navan
Carlow
v
Kerry - Cullen Park
Laois
v
Westmeath - Portlaoise
Round Two - 12 May (17:00)
Antrim
v
Carlow - Aughrim
Round Two - 13 May
Westmeath
v
Meath - Mullingar
Kerry
v
Laois - Tralee
Round Three - 19 May (15:00 BST)
Antrim
v
Laois - Cushendall
Carlow
v
Meath - Cullen Park
Round Three - 20 May
Kerry
v
Westmeath - Tralee
Round Four - 2 June (15:00)
Meath
v
Kerry - Navan
Laois
v
Carlow - Portlaoise
Westmeath
v
Antrim - Mullingar
Round Five - 9 June (15:00)
Meath
v
Laois - Navan
Carlow
v
Westmeath - Cullen Park
Antrim
v
Kerry - Mullingar
Final - 1 July
1st placed team
v
2nd placed team - Croke Park
CHRISTY RING CUP FIXTURES
Round One - Group One - 12 May (15:00 unless stated)
Wicklow
v
Mayo - Aughrim
Kildare
v
Roscommon - Tralee
Round One - Group Two - 12 May (15:00 unless stated)
Derry
v
London - Ballinascreen, 13:00
Down
v
Armagh - Ballycran
Round Two - Group One - 19 May (15:00 unless stated)
Roscommon
v
Wicklow - Dr Hyde Park
Mayo
v
Kildare - Castlebar
Round Two - Group Two - 19 May (15:00 unless stated)
Armagh
v
Derry - Athletic Grounds
London
v
Down - Ruislip (time tbc)
Round Three - Group One - 2 June (15:00 unless stated)
Wicklow
v
Kildare - Aughrim
Roscommon
v
Mayo - Dr Hyde Park
Round Three - Group Two - 2 June (15:00 unless stated)
Derry
v
Down - Ballinascreen, 13:00
Armagh
v
London - Athletic Grounds, 13:00
Semi-finals: 9 June
1st Group One
v
2nd Group Two - tbc
1st Group Two
v
2nd Group One - tbc
Final: 23 June
Semi-final winners
v
Semi-final winner - Croke Park