Four live Ulster Senior Football games to be shown on BBC Sport Northern Ireland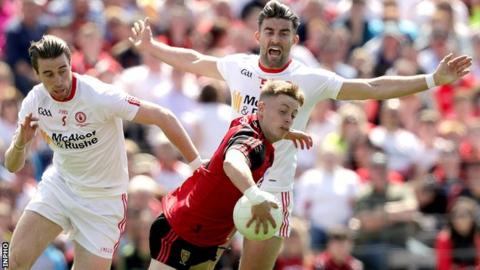 BBC Sport Northern Ireland's coverage of this year's Ulster Senior Football Championship will enable fans to watch four live games.
Fermanagh's game against Armagh on Saturday, 19 May and the Down v Antrim game on 26 May will both be shown live on the BBC iPlayer.
The first semi-final on 3 June and the Ulster final three weeks later will be live on BBC Two Northern Ireland.
There will be full deferred coverage of the four other ties.
The deferred games will start with the Ulster preliminary round tie between Donegal and Cavan on 13 May with Tyrone v Monaghan on 20 May, Donegal/Cavan v Derry on 27 May and the second semi-final on 10 June also shown in full shortly after the final whistle.
There will be live commentary of all games in the Ulster Championship on bbc.co.uk/sportni which will be available on a range of platforms and devices including smart phone and tablet devices - including on BBC Radio Ulster/Foyle MW, DAB and online.
There will also be live commentary of Ulster football teams in the qualifiers and the All-Ireland stages.
Once again this year, the live and deferred Ulster Championship games broadcast by BBC NI can be viewed again on the BBC iPlayer - on desktop, mobile or tablet devices and on smart TVs. Matches will be available to view from 09:00 BST on the following Tuesday morning.
Fans can also keep across all the action with live text reports of all the games in the Ulster Championship, first class reaction, features, analysis and match reports across BBC Sport NI's online services and social media channels and BBC News NI services.
Listeners can send their comments and views during the radio programme by texting in on 81771 and they can follow all the action on Facebook and Twitter; @BBSPORTNI and @bbcchampionship
BBC Northern Ireland's head of content production Eddie Doyle said the coverage would give fans the "opportunity to experience every second of match in this year's Ulster Championship".
"We know how important the Championship is to supporters and we can assure fans that we did everything in our power to secure the best deal we could," he added.
"We know fans understand that sports rights are highly competitive and a lot of what we have been able to do depends on our partnerships with other broadcasters and stakeholders.
BBC Sport NI 'committed to GAA coverage'
"The changing format this year and the availability of games we have the right to broadcast live makes it a very challenging landscape.
"We can assure supporters we remain committed to bringing them the best coverage we can, across all our platforms."
Ulster GAA secretary Brian McAvoy said the provincial body was "pleased that the BBC will cover the 2018 championship on a mix of radio, television and online platforms".
"Once again the BBC have reached agreement with RTE that Ulster Championship games which they are broadcasting live, will be broadcast simultaneously on BBC. This is to be welcomed," said the Ulster secretary.
"While it would have been preferable had RTE selected more Ulster Championship games for live transmission, the re-structured Leinster and Munster Hurling Championships was always likely to result in less provincial football games being televised live.
"Ulster Championship games played on a Sunday that are not being broadcast live will be shown in their entirety by BBC on the evening of the game, while in an exciting development the BBC and the GAA have reached an agreement which will allow the two Saturday evening Ulster Championship games to be streamed live on BBC online.
"It promises to be an exciting Ulster Championship and the BBC are playing their part in making it so."