Leitrim hit four late points to snatch dramatic win over New York in Connacht SFC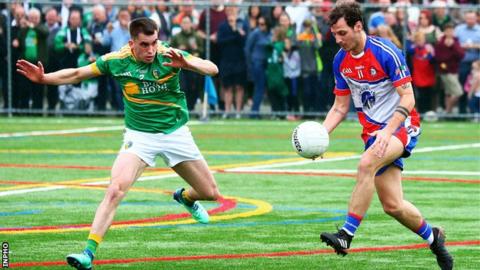 New York footballers were denied a first ever championship win as Leitrim hit four late points to earn a 0-19 to 1-15 win in the Connacht SFC.
Armagh man Jamie Clarke's five points seemed set to have helped New York to victory as they led by three with five minutes of extra-time remaining.
But Aidan Flynn's score started a run of four straight Leitrim points as Noel Plunkett hit the winner at Gaelic Park.
Shane Hogan's goal helped New York lead 1-4 to 0-1 before Leitrim regrouped.
Clarke's lay-off set up Hogan's goal but Leitrim hit eight out of nine scores before half-time to move into a 0-9 to 1-5 lead.
A Luke Kelly point and two scores from Tony Donnelly moved New York back two ahead but two straight Keith Beirne points extended Leitrim back into a 0-12 to 1-8 lead by the 50th minute.
Two Clarke points helped New York move two ahead again but they needed an injury-time free from Monaghan man Daniel McKenna to force extra-time.
After a scoring lull, a Kevin O'Grady point and a magnificent Clarke effort contributed to New York taking a 1-15 to 0-15 lead with five minutes of extra-time left.
However, Leitrim held their nerve to clinch their dramatic victory after Aidan Flynn's point was followed by further scores from Ronan Kennedy, Shane Quinn and Plunkett.
The win sets up a Connacht semi-final in three weeks against Roscommon for Leitrim.
Also in the Connacht SFC on Sunday, Sligo earned a comfortable 1-21 to 1-11 over London in Ruislip.