Tyrone GAA great Conor Gormley makes defibrillator call after father's life is saved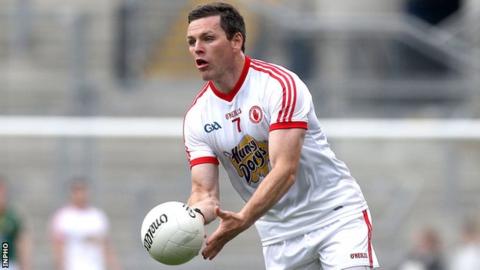 Former Tyrone GAA star Conor Gormley has appealed to all sporting clubs to ensure they have heart defibrillators.
His call follows an incident at a club match at the weekend in which his father's life was saved, thanks to the prompt use of a defibrillator.
Sean Gormley was watching his son play for Carrickmore against Ardboe when he collapsed but is now recovering well.
"If the defibrillator hadn't been there, it might have been a totally different story," said Gormley.
"It shows the importance of it, and having it ready and available at every club. You just never know when it's going to be called upon.
"As a family, we're really appreciative of Ardboe, for their swift actions to bring out the defibrillator, and they did great work, along with one of our own club members."
The match was abandoned when the emergency arose during the half-time break and Tyrone's three-time All-Ireland winner praised the spirit of the GAA which came to the fore as members of the opposing club rushed to the aid of his stricken father.
"It just shows the importance of the GAA community, the GAA family, how great it is. I have been receiving messages from different clubs and people.
"You often hear stories about the GAA family, but when something like that happens, you just see how important it is. It makes you appreciate what we have in this country in the GAA."
The incident reflected the legacy of Conor Gormley's former Tyrone team-mate, Cormac McAnallen, whose sudden death, at the age of 24, in March 2004, prompted the establishment of the Cormac Trust, which has as one of its main objectives the installation of heart defibrillators in all sports clubs.
"We're grateful to the Cormac Trust, and the way they have driven that issue with the defibrillators," added Gormley.